FRC: How It's Tested – All Things Testing
You trust your arc-rated and flame resistant (AR / FR) clothing with your life, and for good reason: AR / FR from qualified suppliers like Tyndale undergoes rigorous testing to ensure it will perform as expected in the event of an arc flash or flash fire. But what are the tests, and how can you be sure?
Follow along with our series to find out about today's test methods and requirements for all kinds of AR / FR clothing – from fiber to fabric to finished garment – and the difference a trusted supplier makes.
With Scott Margolin, Vice President of Technical as our guide, we'll examine many of the major tests to see what they measure, how they measure it, what that means to someone like you who is specifying or wearing the garment, and how you can be sure your PPE starts with and retains its protective properties through its full service life. We'll take a look at testing for other types of PPE – including rainwear, boots, hi-vis, and more – too.
Don't miss this sneak peek:
Already versed on standards and testing? This series is still for you. There have been significant revisions to various standards and test methods along the way. For example, rainwear was once governed by general arc flash and flash fire standards, but has since been superseded by standards with test requirements specifically for AR and FR rainwear. Whether you are a seasoned professional or just starting out, tune in to make sure you are up to date on the latest information.
Each post will be linked below as it is published – follow along, binge them all, or pick and choose as we go based on your hazard or area of interest.
Go behind the scenes to see how we put our AR / FR clothing and PPE to the test:
Episode 4: ASTM F1506, Part 1: The Big Two Tests for Arc Protection
One of the main standards for arc flash-protective clothing is ASTM F1506, Standard Performance Specification for Flame Resistant and Electric Arc Rated Protective Clothing Worn by Workers Exposed to Flames and Electric Arcs.
View Episode 4
Episode 5: ASTM F1506, Part 2: The "Gut Check" for AR Clothing
If you work alongside an arc flash hazard each day, you've got guts. Your electric arc protection should too! That's where ASTM F1506 comes in: it identifies arc-rated flame resistant (AR / FR) fabrics with the right performance properties to be worn for arc flash protection.
View Episode 5
Episode 6: ASTM F2621, The Half Manikin Test
As the name infers, this test uses two manikin torsos – or "half manikins" – meaning the test only evaluates shirts and other top-wear. This test is not used for pants or coveralls. The ASTM F2621 test features non-censored manikins, meaning this test is purely visual.
View Episode 6
Episode 7: ASTM F1959, The Arc Rating Test
In this post, we're concentrating on one of the two main tests – ASTM F1959, the Standard Test Method for Determining the Arc Rating of Materials for Clothing, also known as "The Arc Rating Test." In short, The Arc Rating Test allows us to be sure that arc rated fabrics – protecting wearers against arc flash hazards on the job – have been tested to the arc flash standard.
View Episode 7
AR / FR Rainwear Testing:
Episode 13: Why ASTM F1891 is the Critical Compliance Criteria for AR Rainwear
ASTM F1891 provides test methods, performance criteria and purchasing information for rainwear designed to protect workers from exposure to electric arcs and open flames.
View Episode 13
Episode 14: ASTM F2733 for Flash Fire Rainwear
Like ASTM F1891 for arc flash rainwear, ASTM F2733 starts with vertical flame testing – ASTM D6413. Then, the specification goes well beyond the vertical flame test to detail much more hazard-specific testing.
View Episode 14
Hi-Vis & Other Fabric Testing:
Episode 15: Fabric Color Tests
Now, we're diving into some topics that you might be less familiar with or not even considered; like color testing the fabrics used to make protective work wear. This post covers two tests that center around the color of your AR / FR garments when you receive them; crocking and color fastness.
View Episode 15
Episode 16: ANSI 107 and High-Visibility Garments
ANSI/ISEA 107 provides reliable guidelines for proper selection and use of high-visibility safety apparel. The standard also provides performance testing criteria for the materials used to make high-visibility garments. In this episode, we explore those test methods.
View Episode 16
Protective Footwear Testing:
Episode 17: Why Footwear Testing Matters
We're getting into the nitty gritty of testing to explain how protective footwear is tested! You'll first need to know which two standards govern protective footwear. These standards are ASTM F2412, Standard Test Methods for Foot Protection and ASTM F2413, Standard Specification for Performance Requirements for Protective (Safety) Toe Cap Footwear.
View Episode 17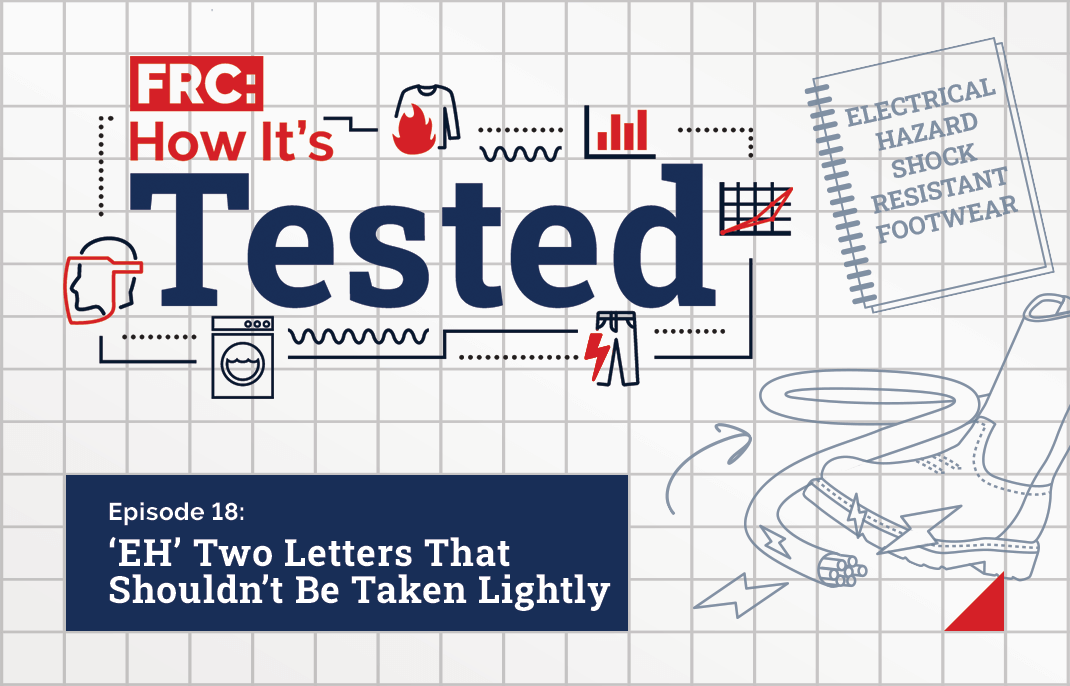 Episode 18: 'EH' Two Letters That Shouldn't Be Taken Lightly
Joining us again for this episode of How It's Tested is Heath Hunter, Director of Industrial Sales at Ariat. Heath brings his protective footwear expertise to our discussion on electrical hazard (EH) rated boots.
View Episode 18
Episode 19: ASTM F2178 – Arc-Rated Eye and Face Protection
Special guest Rich Gojdics – arc flash PPE expert and Vice President at Enespro – breaks down ASTM F2178, which determines the arc rating and specifies the requirements for eye or face protection used by workers exposed to electric arcs.
View Episode 19
Episode 20: ASTM F2621 – Arc Flash Ensemble Testing
Special guest Rich Gojdics – arc flash PPE expert and Vice President at Enespro – returns to walk us through ASTM F2621, a method for testing both products and entire arc flash PPE ensembles – that is, all the pieces of a dailywear system or an arc flash kit system – in an arc in order to observe performance.
View Episode 20
Episode 21 - Insulating Rubber Gloves
Electrical insulating gloves provide important protection against serious injury and even death. That's why in this week's episode of How it's Tested, glove expert and VP of International Sales and Marketing at National Safety Apparel, Vladimir Ostrovsky, joins us to discuss all things related to insulating gloves.
View Episode 21
Need help with an outstanding technical question? Schedule a complimentary one-on-one session with Tyndale's Vice President of Technical and recognized subject matter expert, Scott Margolin.
With these comprehensive testing protocols, you can be sure that your AR/FR and PPE is ready to do its job in the event of an incident – allowing you to walk away from an exposure that would have otherwise been catastrophic. Be sure to wear the appropriate PPE for your hazard from a trusted supplier, and wear it well.
Seeking a Next-Generation Solution for AR / FR Clothing?
Contact a National Account Executive to learn more about our proven products and best-in-class service platforms today:
Already in a Tyndale Program?
Choose from comfortable products with protection you can trust, and order now to stay safe:
Share this page to help others learn about the test methods and requirements for all kinds of AR / FR clothing – and the difference a trusted supplier makes: