Customer Resources
Whether you're shopping through a Tyndale-managed program, TyndaleFRC Express account, or on our retail website, we have the guides you need to ensure your safety and get the most out of your experience.
AR / FR Garment Care, Maintenance, & Use
Key information to insure your AR / FR performs and protects as expected. After all, it is the "last line of defense" in the even of an arc flash or flash fire.
Tyndale AR / FR Clothing Line Sizing Charts
Returns
Need to return? Our online return process is fast, easy, and completely free. Just follow the simple steps!
Meet Our Blog!
We map out the details of our blog, TyndaleUSA.com/blog. Learn how to select a post, search for something specific, or even schedule a technical consultation.
Tyndale's Training Video Resources
Our extensive video libraries help you educate and train your employees on industry standards and important safety topics. Use this flyer to share our top video resources.
HAVE QUESTIONS? NEED SUPPORT?
Considering a Tyndale managed AR / FR program? Reach out to a National Account Executive serving your area for more information.

Already in a Tyndale program? Our friendly, US-based Customer Service team is standing by to help.
AR / FR Garment Care, Maintenance, & Use
Arc-rated and flame resistant (AR / FR) clothing is there to protect you when all other safety measures and precautions have been unsuccessful in preventing an incident. Take care of your AR / FR and it will take care of you!
Jump to:  
Read carefully before wearing AR / FR garments - they are your last line of defense.
Maintenance & Cleaning
Maintenance & Laundering
To fully retain AR/FR properties, follow all laundering instructions provided with the garment. More information.
Retirement & Disposal Criteria
Garments should be retired and replaced at first notice of open seams, broken closures, tears, permanent stains from flammable substances, or other visible and unrepairable damages. More information.
Pre-Use Information
Safety Considerations
Flame-resistant garments from Tyndale provide a degree of protection from exposure to unintentional short-duration thermal exposure from flash fire or an arc flash.
Limitations of Use
The use of garments providing protection against flash fire and arc flash hazards should be incorporated into a proper safety program that also utilizes appropriate administration and engineering controls, as well as safe work procedures. For maximum protection, follow all "PREPARATION FOR USE" instructions. Other personal protective equipment (PPE) must be worn as required to mitigate against potential hazards identified by the hazard assessment.
Marking Recommendations and Restrictions
DO NOT REMOVE AND DO NOT MARK the safety or cleaning labels on any protective garments. Clothing may be marked with an individual's name and department using an indelible laundry marker and/or separate laundry labels.
Warranty Information
Tyndale warrants this garment to retain full FR protection for the useful life of the garment if laundering instructions are followed completely. View laundering best practices.
Preparation for Use
Sizing/Adjustment
Refer to the sizing chart provided on the UL Label, and that is also available at TyndaleUSA.com, to ensure proper fit. Garment should fit loosely and comfortably, allowing a full range of movement. Garments should not fit so loosely as to present a snagging hazard or to interfere with work procedures. View Tyndale sizing charts.
Recommended Storage Practices
Store garment away from flammable chemicals and other soiling agents. Garment storage in direct sunlight or fluorescent lighting can result in color change or fading due to exposure to ultraviolet rays.
Inspection Frequency and Details
Fully inspect garment prior to each use, and ensure that garments are not soiled with flammable substances. More information.
Donning and Doffing Procedures
For full protection, wear garment so no skin is left exposed. Fasten all zippers, hook-and-loop, button and snap fasteners so that the garment provides protection all the way to the neck. Sleeves and cuffs shall be worn down and secured. View proper wear flyer.
Proper Use Consistent with NFPA 2113
When worn to protect from flash fire hazards, follow NFPA 2113 guidelines for careand maintenance, cleaning instructions, and precautions. View NFPA 2113.
AR / FR Garment
Care & Maintenance

Resources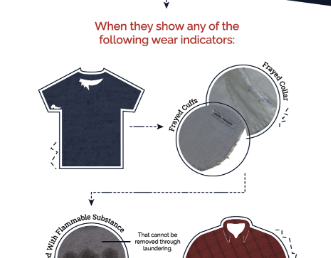 When & How to Retire
To ensure your AR / FR clothing performs as expected in an arc flash or flash fire incident, it's important to retire and replace worn out garments. Leverage these user-friendly resources:
AR / FR Garment
Use

Resources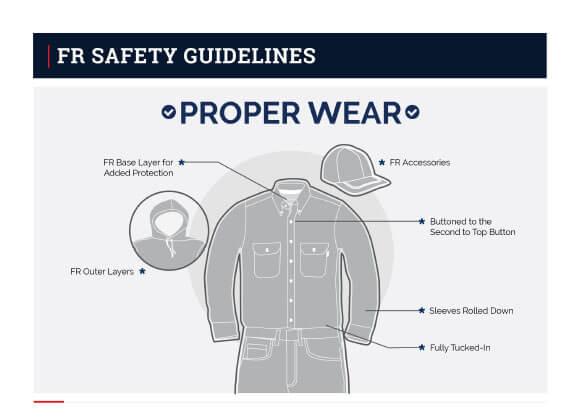 FRC Proper Wear
Safety Guidelines for proper and improper wear of FR in diagram format.
Retail Terms & Conditions
Customer Resources
Whether you're shopping through a Managed, TyndaleFRC Express, or Retail program - we have the guides you need to get the most out of your experience.