Weather & Seasons Resources
Mother Nature can be unpredictable, but that doesn't mean you can't be ready for anything she throws your way. Tyndale makes it easy! Browse our resources to make sure you're prepared with the right arc-rated and flame resistant (AR / FR) clothing and PPE – and armed with the all the information – you need to stay safe from summer to winter and everything in between.
Heat Stress
From the best AR / FR clothing for extremely hot days to symptoms and treatments for heat stress – our blogs, resources, and videos help you manage those harsh, hot, and dry summer days.
What are Heat Stress Causes, Symptoms, and Solutions?:
This summer, OSHA is proactively looking for heat hazard violations in 70 high-risk industries when a heat warning or advisory has been issued in the targeted area. Be prepared by knowing the causes and symptoms of heat stress and take action to keep workers safe by implementing a heat-illness prevention plan.
OSHA's New National Emphasis Program on Heat Stress:
Summer is here, and the heat is on. This year, OSHA is prioritizing the protection of workers from heat-related illnesses. Learn more about this National Emphasis Program (NEP) and find out how you can reduce the risk of both heat stress and OSHA citation.
What do Safety Standards Say About Vented Shirts?:
Designed to help dissipate heat, vented shirts usually feature a back vent and some even have underarm vents, so workers experience extra airflow on hot days. Here's what the latest standards say about testing and safety for vented AR / FR garments.
Have You Stocked Up on Your Lightweight FRC for Summer?:
Summer temperatures have already arrived in some areas of the country, signaling it's time to order your lightweight AR / FR clothing early. Here's why! Plus, explore a few of our most popular lightweight options to look out for in your catalog.
Do My AR / FR Garments Offer UV Protection?
If you work outside, chances are sun protection is an important part of your safety routine. But do the AR / FR garments you wear to stay safe from the hazards you face also provide protection from the sun's ultraviolet rays?
Lotions, Oils, and Sprays – Oh My!
Protecting yourself from seasonal hazards also means staying clear of dangerous products that could contribute to injury in the event of an arc flash or flash fire. Find out which products are safe to use with AR / FR clothing.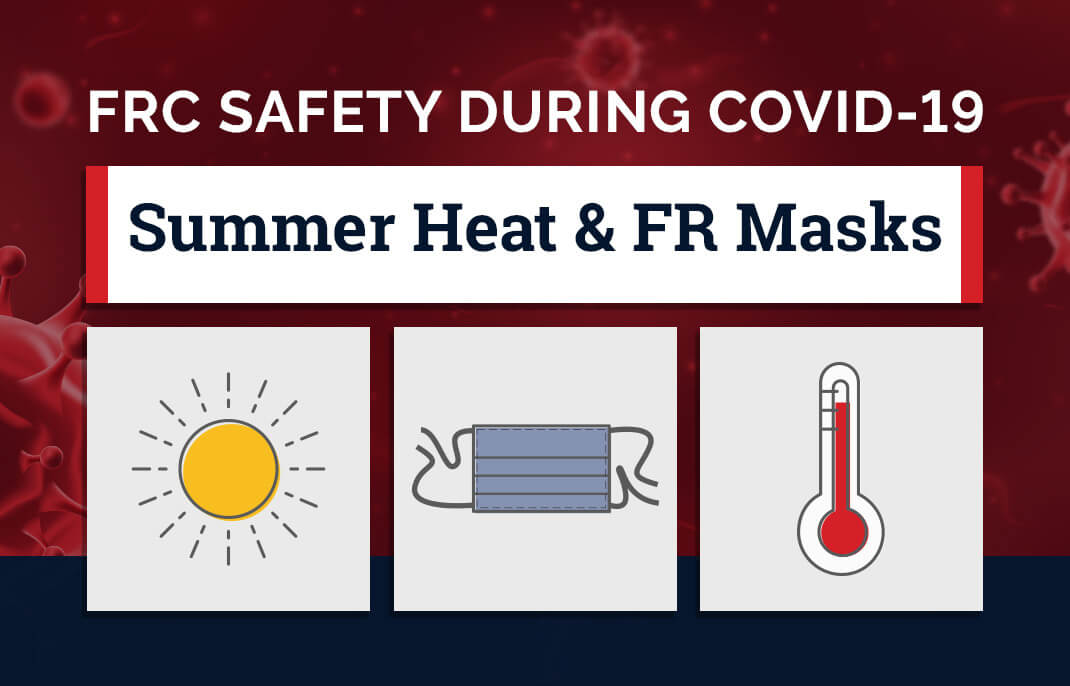 FRC Safety During COVID-19: Summer Heat & FR Masks:
Worried about getting too hot while wearing COVID-19 face masks in the summer? Listen as Scott Margolin, Vice President of Technical, explains best practices for face masks as temperatures rise.
Summer Safety – 5 Tips to Avoid Heat Stroke:
In this post, we share some of the risks associated with working outdoors in high temperatures and five tips on how to avoid heat stroke and other heat-related illnesses.
Summer Safety – Best Practices for Staying Safe in a Thunderstorm:
In the summer months, warm air near the Earth's surface leads to an increase in storms. These thunderstorms present dangers for outdoor workers. Use these best practices to stay safe.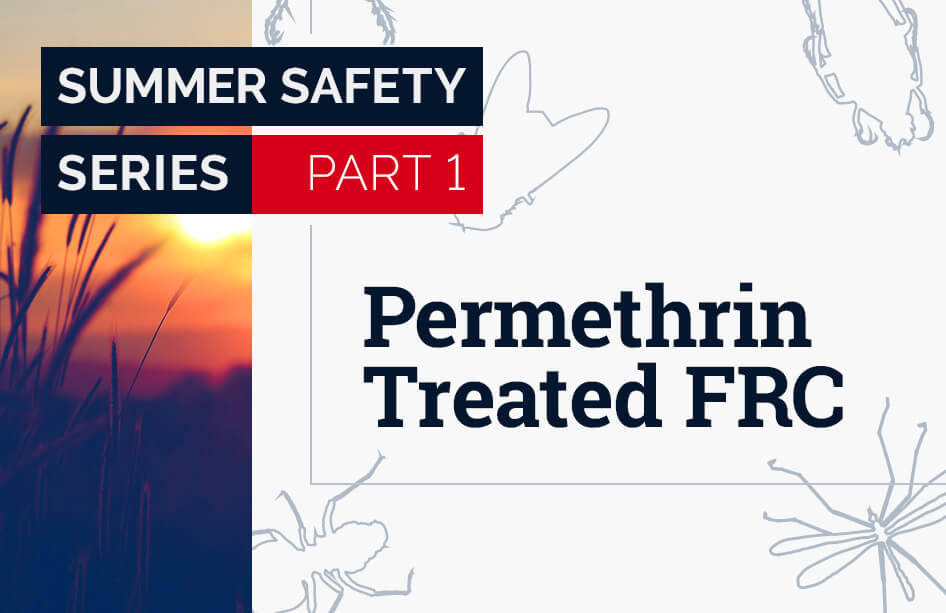 Summer Safety – Permethrin-Treated FR Clothing:
This blog and video highlight permethrin-treated FR clothing: what it is, how it works, and why it's important for protecting workers from annoying, disease-carrying insects like ticks and mosquitoes.
Hurricanes & Rainstorms
Need to know what to look for in AR / FR rainwear? Wondering if your rainwear provides sufficient protection? We've got you covered. Tyndale's hurricane and rainstorm resources include everything you need to know to stay safe while braving wet and extreme weather conditions.
How Do I Know What AR / FR Rainwear Is Right For Me?
Choosing the right rainwear can feel intimidating. Read this post to ensure you're picking out rainwear that meets your industry-specific standards such as ASTM F1891 and ASTM F2733.
How to Get Ahead of Hurricane Season:
Hurricane season begins in June and lasts through November. That's six whole months of life-threatening weather you need to be prepared for! Here's what you need to know about protecting workers.
AR / FR Rainwear You Can Trust for Hurricane Season:
The right rainwear can drastically change the outcome of an exposure to an arc flash or flash fire. Find out how to identify the right rainwear for your hazard and explore products from the industry's most-trusted brands.
What Should I Look for In AR / FR Rainwear?
Hint: compliance solely with ASTM D6413 is not a true indicator of sufficient protection in the event of an arc flash or flash fire. Find out what to look for, and witness the difference the right rainwear makes in side-by-side video footage.
Does My AR / FR Rainwear Meet The Right Standard?
Buyer beware: some rainwear sold as "flame resistant" complies only with ASTM D6413. However, if you or your workers will be wearing the rainwear for protection from arc flash or flash fire, compliance solely with ASTM D6413 is not a true indicator of sufficient protection. Here's why, and what to look for instead:
Does Moisture Impact Protection Levels of FRC?
Whether sweating in the summer heat or getting caught in a pop-up storm, some days your FR clothing is going to get wet. When it does, does it still provide the same level of protection in an arc flash or flash fire?
Rainwear Alert – How ASTM F2733 and ASTM D6413 Apply to FR Rainwear:
FR rainwear is protection that is commonly overlooked but is critical to comfort, safety, and compliance in wet work conditions. Here's how to ensure your clothing protects from both the elements and the hazards you face:
FR Rainwear vs. Non-FR Rainwear in a Flash Fire:
The difference is astounding! See for yourself how FR rainwear performed against non-FR rainwear in a short-duration thermal hazard, or flash fire. Which suit would you want to be wearing in an incident?
Which Standards Should My FR Rainwear Pass?
If you're specifying or purchasing AR / FR rainwear, it's critical that you know which standards are used to make compliance claims. Tyndale strongly recommends against accepting or purchasing FR rainwear backed only by ASTM D6413, the vertical flame test. So which standards are appropriate instead?
How It's Tested: Episode 14 – ASTM F2733 for Flash Fire Rainwear:
If your rainwear is expected to protect you in a flash fire, it should be tested in a flash fire. That's why ASTM F2733 goes well beyond the vertical flame test to include hazard-specific testing. Get all the specifics on how ASTM F2733 determines rainwear has what it takes to protect you in a flash fire.
How It's Tested: Episode 13 – Why ASTM F1891 is the Critical Compliance Criteria for AR Rainwear:
Before you invest in AR / FR rainwear it is important identify the standards the garment passes. Find out what sets ASTM F1891 apart from other standards sometimes used to back protective rainwear claims – and why compliance with ASTM F1891 is critical when selecting rainwear intended to protect workers from arc flash.
Cold Stress
Learn how to stay warm in the chilliest months. Tyndale's cold stress resources provide guidance on the best outerwear for frigid days and informational videos on how to stay protected from cold-related illnesses, complications, and injuries.
Bundling Up? Buckle Down on Safety:
To stay safe in weather like snow and ice, we must adapt our safety behaviors – taking steps like leaving extra time to clear off our windshields in the mornings, and adjusting how we drive. Stay vigilant about your PPE too – here's how to stay warm without putting yourself at risk of injury in the event of an arc flash or flash fire.
What is Cold Stress?
Cold winter weather can be downright dangerous. Know the risks, recognize the warning signs, and learn how to protect outdoor workers. This blog outlines four valuable tips to keep yourself and others protected against harsh winter weather.
6 Tips to Combat Cold Stress
Think cold stress is only dangerous to the person becoming affected? Think again. Cold stress can dramatically slow reaction times – leading to an industrial accident. Scott Margolin shares six tips for keeping yourself and others safe this winter.
Changing Seasons
Changing temperatures – particularly when fluctuating throughout the day – can create comfort challenges for outdoor workers. Our resources cover everything from whether bug spray is safe to use on AR / FR clothing to layering your AR / FR garments during changing seasons.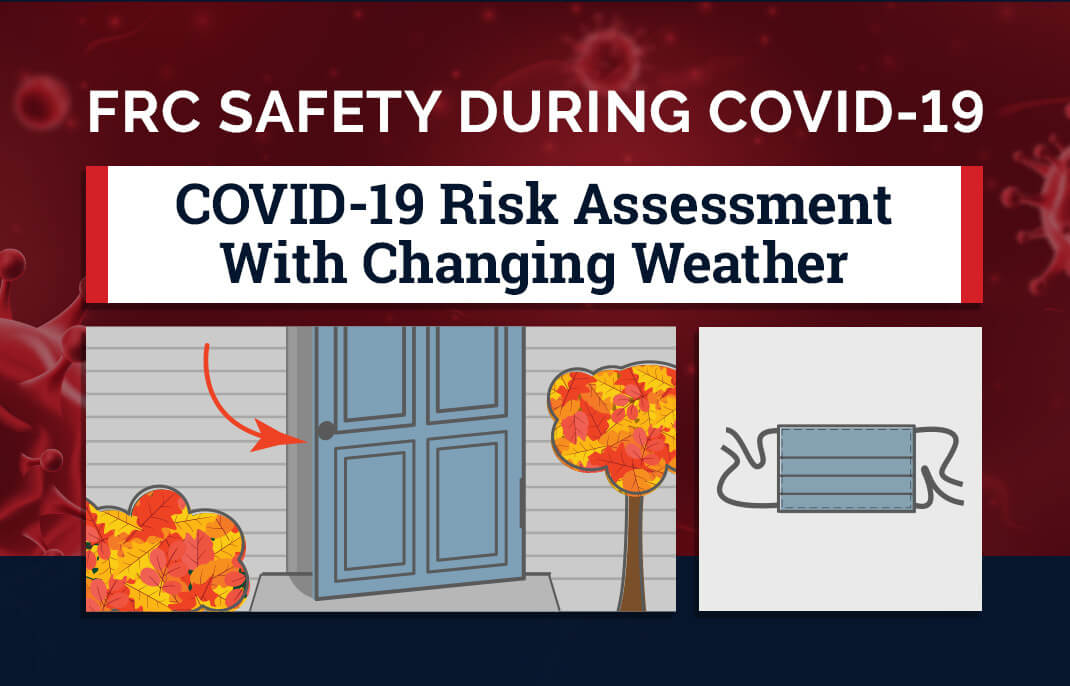 FRC Safety During COVID-19 – COVID-19 Risk Assessment with Changing Weather:
Scott Margolin, Vice President of Technical, breaks down two main data points for COVID-19 risk assessment related to wearing face protection during the cooler months. If you're transitioning from outdoor to indoor work, these risk factors are especially important.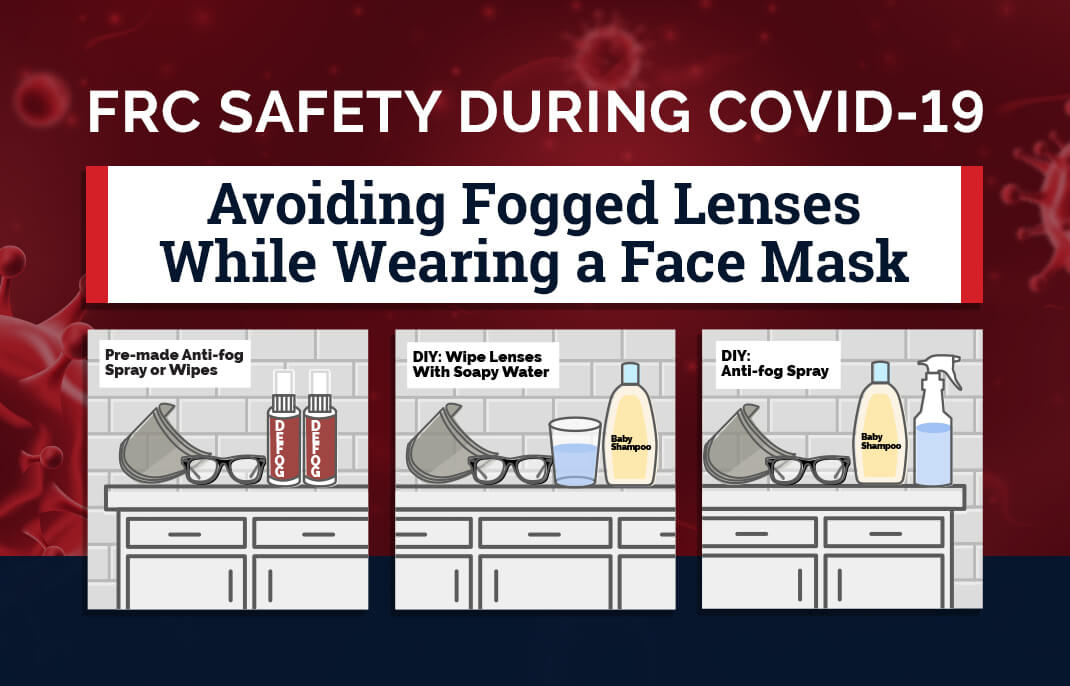 FRC Safety During COVID-19 – Avoiding Fogged Lenses While Wearing a Facemask:
This blog and video outline helpful tips to keep your safety glasses or face shield from fogging while wearing a COVID-19 mask on the job. Watch as Vice President of Technical, Scott Margolin, explains what to do:
Should I Wear FR Outerwear Over FR Clothing?
The answer is, yes! Tune in to learn how to properly layer FR outerwear over your FR clothing and the importance of making sure you do not wear flammable non-FR garments on top of your FR clothing.
What Should I Wear Under My FRC: Comparing Base Layers with Arc Flash Testing:
Learn what industry standards say about wearing undershirts on the job and your options for choosing the best base layer to work safely.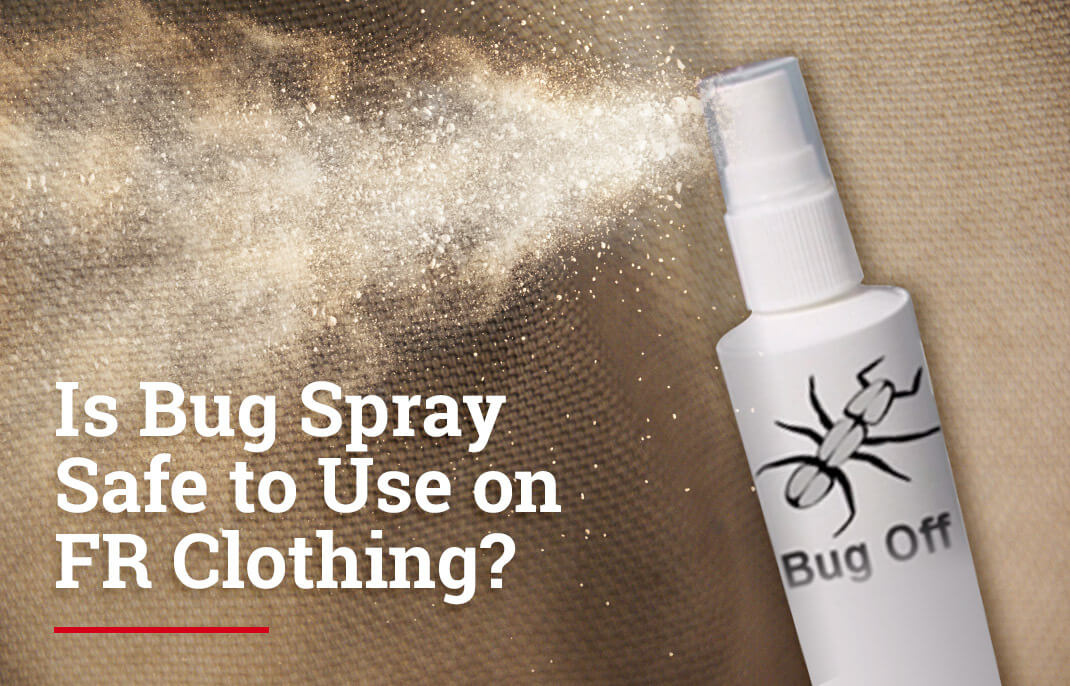 Is Bug Spray Safe to Use on FR Clothing?
Industry expert Scott Margolin provides information on permethrin, a non-flammable ingredient used on FR clothing to keep bugs away and keep you safe on the job. He also sheds light on insect repellents you should NOT use around AR / FR clothing.
Layering Made Easy: The Power of Layering, in the Palm of Your Hand!
Knowing the true level of protection provided by combining layers is as easy as downloading our layering app. Achieve your desired level of protection the right way: with information from the largest collection of layered arc flash testing data.
Is Your AR/FR Wardrobe Ready for Spring?
Scott Margolin, Vice President of Technical, shares some important seasonal reminders. Make sure you have enough AR/FR on hand, it fits well, it's in good repair, and it's clean and ready to keep you safe as temperatures fluctuate and the seasons change – just follow this simple checklist:
Versa Mid-Weight Button-down Fleece (T78MT):
Perfect for spring, winter, and fall, Tyndale's mid-weight FR button-down fleece is the seasonal layering piece you need to stay safe, warm, and comfortable throughout the day.
Versa Three-Button Hooded Sweatshirt (M70MT) Now in Long Sizes!
Easily layered, the Versa Three-button Hooded Sweatshirt by Tyndale is perfect for changing temperatures. The sweatshirt is warm, comfortable, and provides ease of mobility.
Introducing the Versa Long Sleeve Raglan T-Shirt (J02MT):
Constructed with lightweight 100% FR cotton and designed with color-blocked sleeves, this stylish FR shirt is more than just "workwear." It's modern, comfortable, and most importantly, it provides the protection you need to work safely.
Introducing the Versa Long Sleeve Henley (J06MT):
Breathable fabric can be the difference between a normal day and one you just want to end. This lightweight Henley fits just like your favorite shirt and even looks good outside the jobsite.
Introducing the Versa Mid-Weight Button-down Fleece (T78MT):
With moisture-wicking and fast-drying features, this versatile and sleek button down is perfect for a variety of weather conditions – or even if you spend part of your day in the field and the rest working at a desk!
SEEKING A NEXT-GENERATION SOLUTION FOR AR / FR CLOTHING?
Tyndale makes it easy to protect workers for safety and compliance, in all seasons and weather conditions – all while minimizing costs and headaches. Customize a program to your company's unique protective, climate, budgeting, and image needs:
Contact a National Account Executive today to get started with solving your challenges and better protecting your workers:
ALREADY IN A TYNDALE PROGRAM?
Does your catalog include the full range of AR / FR clothing, outerwear, and accessories your workers need to be prepared for every season and weather event? Contact your National Account Executive to review and expand your catalog today:
Order now to make sure you're safe and comfortable in any conditions the forecast brings:
Share this page to protect others:
Tyndale is here to help keep workers safe, no matter what Mother Nature throws our way.