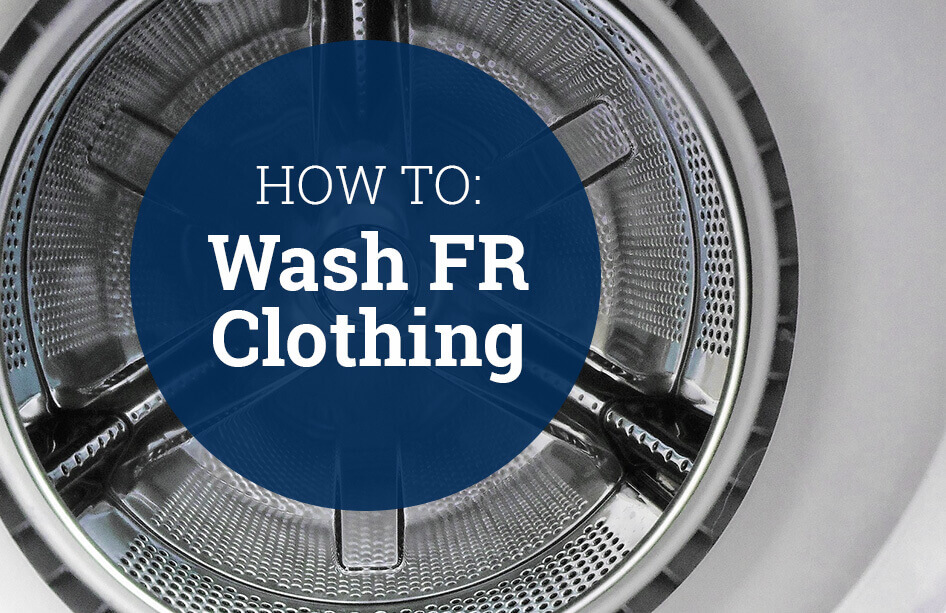 Home laundry is a safe, cost-effective alternative to industrial laundering and can help extend the service life and protective qualities of FR clothing. It's important to note that the quality, American-made fibers and fabrics sold by Tyndale are all guaranteed flame resistant for the life of the garment. Laundering instructions are primarily designed to help get the clothing clean, minimize shrinkage, extend useful life, and provide guidance on what you should avoid, like introducing substances that may compromise flame resistant properties such as bleach or fabric softener.
First and foremost, you should always follow the instructions on the garment label. Additionally, Tyndale provides the following guidelines – included with every shipment containing FR clothing and vetted by industry leaders – on garment care and maintenance:
Wash in warm water – for heavily soiled garments, wash in the hottest temperature allowed on the care label (generally a warm setting) to remove dirt.
Use small wash loads, if possible – this helps reduce wear and improve cleaning
Wash FR clothing inside out, separate from everyday clothing – this helps reduce wear
Tumble dry on low or permanent press, or the "less dry" setting – drying a garment on high heat can cause excessive shrinkage. Most shrinkage is caused by overdrying, which occurs when a dry garment continues to be heated.
Remove from dryer damp or line dry to minimize shrinkage – two-thirds of a garment's shrinkage often takes place within the first five washings.
Dry-cleaning is recommended for difficult stains – or try spot-treating stains with detergent prior to washing.
Tyndale worked with Proctor and Gamble to select the best detergent to wash your FR clothing. Liquid Tide (for top-loading machines) or Liquid Tide HE (for front-loading machines) offer excellent cleaning performance.
Perhaps equally as important as knowing what you should do is knowing what you should not do when home laundering FR clothing. DO NOT USE:
Liquid chlorine bleach
Fabric softener
Detergent with fabric softener
Oversized wash loads
Watch our video for more information:
Make sure that all flammable substances – oil, gas, grease, etc. – are removed before the garment is worn again. To help with difficult cleaning, try applying detergent directly to the spot or dry-cleaning. Additionally, you should retire you FR clothing if it's worn out. Look for thin or threadbare areas, unrepaired holes, excessive wear or abrasion, and damage like rips, cuts, tears, broken closures, or torn, open, or frayed seams. If damage is minor, contact Tyndale to request a repair or a complimentary FRC repair kit. Stop wearing the garment until it is properly repaired using FR materials.
For more information on Care and Maintenance of FR Clothing, please see ASTM F2757, Standard Guide for Home Laundering Care and Maintenance of Flame, Thermal and Arc Resistant Clothing. You can also visit our Care and Maintenance FAQ page. For even more detailed information on how to launder your FRC at home, download our white paper by completing the information below.