What's the Difference Between Uniform Rental and Managed Direct Purchase?
Explore the unintended consequences of entering the rental world – and direct purchase programs' answers to rental program challenges.
Why have Managed Programs Overtaken Uniform Rental for AR / FR Clothing?
Managed apparel programs are now leveraged by 90%+ of investor-owned electric utilities, 50+ Fortune 500 companies, and countless mid-sized companies. AR / FR clothing wearers enjoy the convenience, choice, and ease of use of a managed program, where garments are chosen by the wearer from a catalog of options approved by management, delivered to their work or home and laundered at home by the wearer.

This is not the case with uniform rental or lease ("rental") programs with industrial laundry service. Let's take a look at the top questions on rental programs and reveal the truth on why so many companies are shifting away from this option:
(Toggle through the tabs to see the answers!)
Are uniform rental with industrial laundry programs:
How much can I save with an AR / FR clothing program?
Uniform Rental vs Ownership
Chad Barker and Scott Margolin discuss uniform rental with industrial laundry vs. managed care programs in our latest video series. Watch Now:
Surprise! It's Your Annual Rental Program Price Increase
Rental contracts typically have clauses specifying an "Automatic Price Increase" which occurs on the anniversary of the initial installation date every year for the duration of that contract.
Service Charges: The "Dirty Laundry" of Uniform Rental
Unfortunately, customers aren't typically aware at the outset of the contract that this automatic charge even exists, let alone the extent to which it will increase their program spend.
How Uniform Rental Loss & Damage is Costing You Real $$$
Charges for lost and damaged garments are not typically factored into initial budget estimates for rental programs but in reality are almost always the most significant source of unexpected program cost.
Hidden Charges for Adding New Employees to a Uniform Rental Program
Companies in a rental program are charged numerous set-up fees and new hires typically don't receive the clothing they need to stay safe in a timely fashion or in the condition you'd expect.
Why is Uniform Rental Invoicing Such a Headache?
We explore why the invoicing process is one of the most frustrating things that customers have to deal with in a rental program.
Uniform Rental Scare Tactics – Part 2
We expand on some common misleading statements made by rental companies, all of which focus on "risks associated with home laundering."
Uniform Rental Scare Tactics – Part 1
Rental companies sometime use scare tactics to suggest that home laundering is "unsafe" and/or OSHA requires or strongly prefers industrial laundry. This is simply untrue and very misleading.
What is Underwash and How is it Costing You?
We discuss what "underwash" means in a rental program and how it impacts company spend.
Protect your Bottom Line: Shortages with Uniform Rental
Shortages – when an employee doesn't get back the garments they turned in the previous week for cleaning – are one of the most common complaints in a uniform rental program.
What's the Difference Between Uniform Rental and Managed Direct Purchase?
We discuss differences between the two main AR / FR supplier options - while providing context around common misconceptions you may have about them.
Top 3 Unintended Consequences of Choosing Uniform Rental
Beware: Rental contracts typically feature long terms with automatic renewals and significant financial liabilities, making them difficult to exit.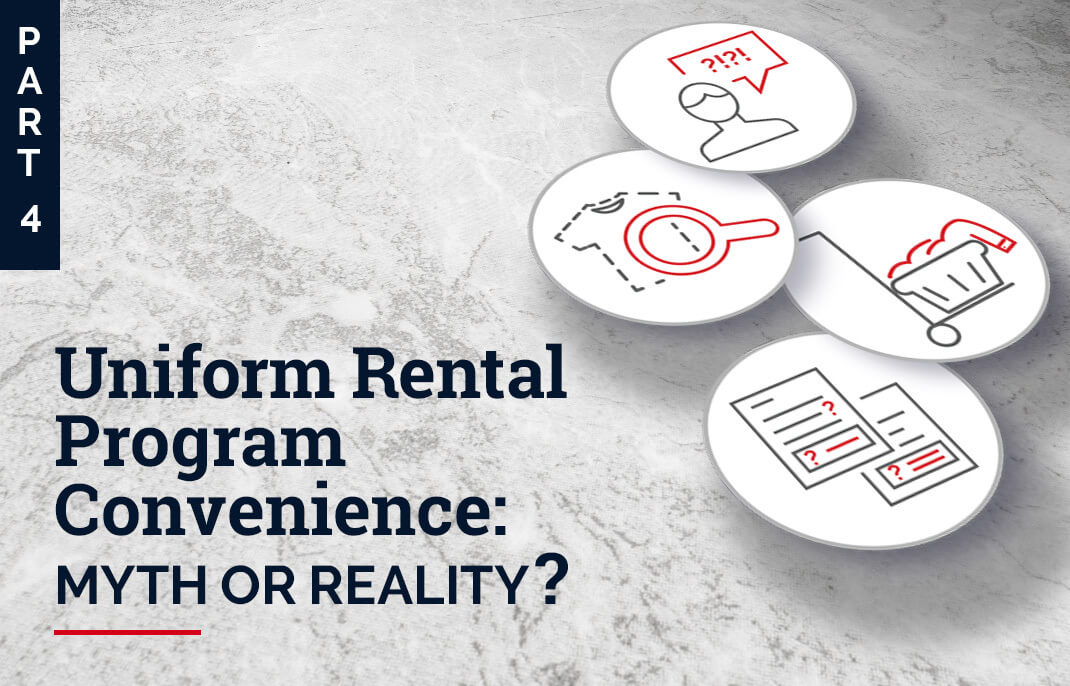 Uniform Rental Program Convenience: Myth or Reality?
Unfortunately, many companies in rental programs find that they expend as many or more resources managing the program than the program is sold to save.
Are Uniform Rental Programs Cost-Effective?
The fact is: companies who have transitioned from a rental program to a direct purchase program have reported as much as 20-50% cost savings.
Is Uniform Rental with Industrial Laundry Necessary for AR / FR Clothing?
The rental service model – which frequently includes industrial laundry service – is not necessary for AR / FR clothing – neither to protect product performance nor is it required by any industry standards.
Four Reasons Why FR Managed Programs Are Better Than Uniform Rental Programs
Explore the top reasons why managed apparel programs rank much higher in terms of customer satisfaction than rental programs.
Tyndale's Laundry Options
We recognize that every company is different and choosing an industrial launderer or a home laundering program can be confusing. The good news is that Tyndale offers flexibility – the choice of home laundry or a fully managed industrial laundry program.
Auditing the Final Inventory
Program managers who have been through this process all offer the same advice — do not pay the invoice at face value!
Managing Garment Inspection and Turn-in
You'll want to have first-hand knowledge and documentation about the number of garments your company has returned to guard against charges for lost garments – as well as their condition, to guard against disputed damage charges.
Understanding Program Responsibilities
The uniform rental provide owns the garments. This means your company is responsible for returning the garments to them.
Understanding Rental Laundry Programs
Industrial laundry rental programs are sold as a simple and economical approach to putting workers into arc-rated and flash fire rated clothing (FRC). In theory, here is how they are supposed to work...
Time to Move on from Rental Laundry?
With the decision not to renew your legacy rental contract, your company will need to understand and manage the responsibilities associated with having thousands of garments in your system. Plus, you'll need to prepare a transition plan.
How to Save on FRC by Transitioning Away From Rental
Transitioning out of rental/lease for flame resistant clothing (FRC) can help companies realize as much as 30-50% or more in direct cost savings!
Frustrated with FRC Rental? Hybrid to the Rescue!
Workers frustrated with industrial laundry no longer turn-in their garments each week — but you're still paying the same weekly price for the service. What's the solution?
Who is Responsible for FRC Use, Care, and Maintenance?
In this blog post, we explore and compare and contrast applicable industry standards governing the use and care of FRC.
OSHA 1910.269 Resource Guide on Laundering FRC
Tyndale can help employers understand key aspects of OSHA's revised ruling to standard 1910.269 as it relates to FR clothing and how to properly protect your employees.
OSHA 1910.269: Why Industrial Laundry is Not the Answer
The new 1910.269 and 1926 subpart V ruling reinforces the employer's legal obligation to provide, pay for, and retain ultimate responsibility for care and maintenance of FR and arc-rated clothing.
Top 10 Reasons to Switch from Laundry Rental to a Purchase Program for FRC
We share our top 10 reasons to switch from using an industrial launderer to participating in a program that allows your employees to purchase and launder their own garments at home.
The Ins and Outs of FRC Laundry Rental Contracts
You're definitely not getting the best deal if you start seeing ancillary charges popping up and running into the pitfalls of a laundry program's loopholes and requirements.
What Pricing and Costs Will You Uncover in Your FRC Laundry Rental Program?
While a rental program might seem better up-front, maybe because of a lower first year contract cost, overall costs for the life of the average three year rental contract tend to be significantly higher.
Home Laundering or Industrial Laundering: Which is Best for FR Clothing?
Home laundering is a safe, cost-effective alternative to industrial laundering and can help preserve the useful life and protective qualities of FR clothing.
What FRC Laundry Rental Programs Lack: Customer Service and Communication
Part of the cost of choosing a laundry rental program comes in the form of what you don't get compared to a managed clothing purchase program.
A Choice Program: The Most Important Factor in Your Employees' FR Clothing
Tyndale has found that a wide selection of available styles is by far one of the most important aspects of any FR program to employees.
Direct Buy or Laundry Rental – Which Offers Best Employee Sizing for FRC?
Improper employee sizing can be one of the largest drivers of unexpected cost in a laundry rental program and can lead to approximate sizes, employee dissatisfaction with garments, and the time-consuming process of sending returns.
Consider this Before Choosing Laundry Rental for Your Company's FR Clothing
Knowing what to look for when considering a laundry rental or purchase program for managed FRC clothing can be confusing. We explore key points of laundry rental that you may not have previously considered.
Shareable / Printable Flyers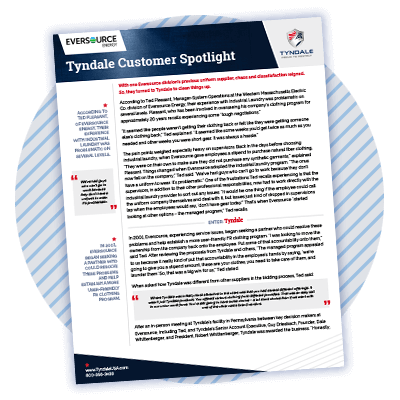 Customer Spotlight: Eversource Energy
Learn about Eversource Energy's why they made the switch to a managed program solution from their previous supplier and how Tyndale's program works for them today: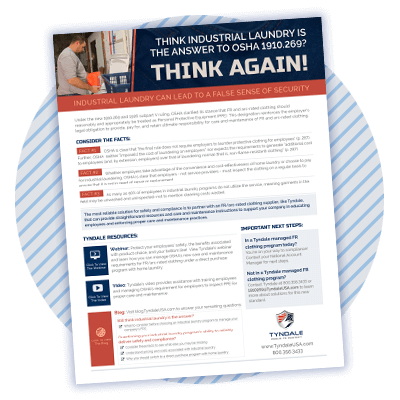 Tyndale's 1-page Laundering Resource Guide
Information on why industrial laundry services can lead to a false sense of security, facts from updated OSHA standard 1910.269, links to other valuable resources.
Why & How Home Laundry Works
Tyndale Gives You the Choice
A fully managed industrial laundry program is still a great option when starting a Tyndale Managed Apparel Program. Tyndale works closely with regional and national industrial laundry partners to wash your clothing locally. But, we believe home laundering is an exceptional option, and in compliance with OSHA and ASTM.

Let's take a look at the some washing tips and instructions for properly caring for your flame resistant clothing garments at home. You'll see why so many companies are choosing home laundry:
(Toggle through the tabs to see the answers!)
FAQs on properly caring for your flame resistant garments with home laundry:
SEEKING A NEXT-GENERATION SOLUTION FOR AR / FR CLOTHING?
Save as much as 50% per person per year by switching to Tyndale's managed direct purchase program with home laundry.
Experiencing issues in your AR / FR rental program? Share this within your organization to help discover a solution that cuts costs and eliminates headaches while expanding product choice and access to innovation.
ALREADY IN A TYNDALE PROGRAM?
Share this to help others in your organization understand the value of your Tyndale program and guard against the unintended consequences of the uniform rental world:
Order now to get the AR / FR you need to stay safe: