Williamsport PA Factory Store & Service Center
Due to CDC recommendations during the ongoing COVID-19 Pandemic, Tyndale's retail locations will be operating with new safety guidelines. Please click here for information detailing our new guidelines for both in-store and curbside pickup options. The safety and health of our store associates and customers are our #1 priority. We value your business and appreciate your understanding!
Williamsport Factory Store & Service Center:
60 W. Southern Ave
S. Williamsport, PA 17702
(272)-202-3708

Store Hours: Monday through Friday 9:00AM to 6:00PM
Tyndale's Williamsport Factory Store allows those of you from the Marcellus Shale region to see, feel, and try on an unmatched selection of top-quality flame resistant clothing (FRC) before you buy. If you're from surrounding cities such as Lockhaven, Lewisburg, Bloomsburg, and Elmira stop in to choose from our own line of arc-rated flame resistant clothing as well as garments from several of the largest FR suppliers in the industry. Tyndale is a one-stop shop for keeping our PA workers safe, comfortable, and compliant with applicable safety regulations!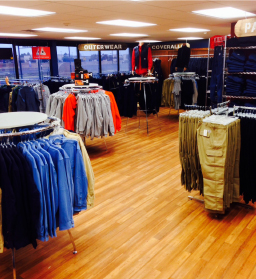 WIDE SELECTION
Shop from a wide selection of in-stock flame resistant (FR) clothing that includes our own complete line of arc-rated flame resistant clothing for men and women, plus FR clothing by Carhartt, Bulwark, Wrangler, Ariat, TrueNorth, NSA and other leading suppliers.

WOMEN OWNED
Family-owned, certified Woman's Business Enterprise (WBE) headquartered in Pipersville, PA.

WOMEN'S SELECTION
Tyndale's Made in the US line of FR includes a full selection of garments specifically designed for women. Tyndale also carries a wide range of women's garments from other suppliers.

EASY PAYMENT
Cash, check, and all major credit cards accepted.

EXPERIENCE
Over 40 years of experience.

INDUSTRY EXPERTISE
Tyndale is not only well-versed on the standards that impact worker safety, but an active participant in organizations like ASTM, NSC, EEI, and IEEE that maintain responsibility for establishing those very standards.

BROAD SIZE RANGE
Tyndale offer the widest range of sizes in the industry – including small up to 5XL and Longs for many styles. You're sure to find clothing that fits you properly.

FACTORY SECONDS
Select availability of factory seconds with minor imperfections that do not impact protective performance.

PROGRAMS & ACCOUNTS
Best-in-class, managed apparel programs, plus bulk orders and corporate accounts available.