How It's Tested: Episode 21 – Insulating Rubber Gloves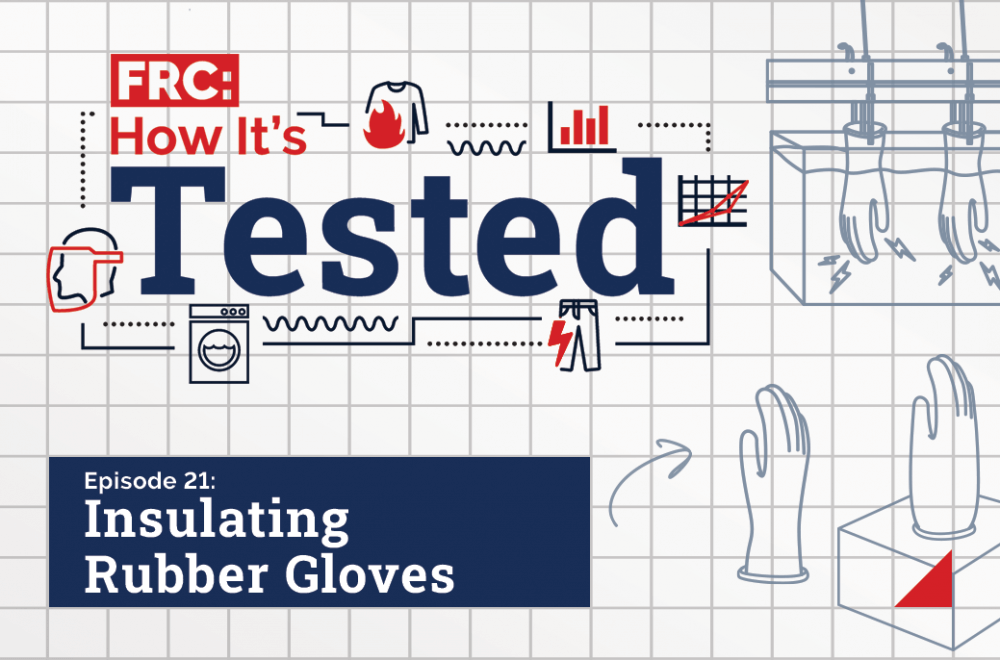 Our How It's Tested series explores safety standards and test methods for AR / FR garments and PPE. With Scott Margolin, Vice President of Technical as our guide, we examine many of the major tests to understand what they measure, how they measure it, and what that means to someone like you who is specifying or wearing the garment. Whether you are a seasoned professional or just starting out, explore all episodes in this series to make sure you are up to date on the latest information.
Electrical insulating gloves provide important protection against serious injury and even death. That's why in this week's episode of How It's Tested, glove expert and VP of International Sales and Marketing at National Safety Apparel, Vladimir Ostrovsky, joins us to discuss all things related to insulating gloves. Tune in as we ask Vladimir questions such as, which glove standards should wearers know about, what are testing facilities doing to ensure the gloves meet required standards, what are the specifics related to C-current (a measure of the rate at which a battery is discharged relative to its maximum capacity) testing, and more.
Ensuring wearer safety when testing insulating rubber gloves comes down to three major standards: ASTM D120, ASTM F496, and ASTM F1236.
ASTM D120: Standard Specification for Rubber Insulating Gloves
This standard provides specifics guidelines for how manufacturers of rubber insulating gloves need to make the gloves and test them for protection from electrical shock. There are two types of gloves provided when conducting this test and six classes that the gloves can meet once tested. The two types of gloves are designated as Type I, non-resistant to ozone, and Type II, resistant to ozone. While the six classes of gloves, differing in electrical characteristics, are designated as Class 00, Class 0, Class 1, Class 2, Class 3, and Class 4.
When the manufacturer tests the gloves before they are sold, they perform a test that ensures the gloves are compatible against a C-current. To conduct this test, the gloves must be submerged in water. The water located outside of the glove is energized, whereas the water inside of the glove is grounded. The gloves are then exposed to three minutes of continuous voltage, depending on the class of the glove. If one of the gloves fails during this test, the test stops, the glove is removed, and the rest of the gloves go through another 3-minute-long test.
After the initial tests are complete, the gloves cannot sit on the shelf at a distribution center for more than a year. If the gloves are unused within the first year after they were tested, they must be retested for wearer safety. Once received by the customer, the wearer can use these gloves for 6 months before they need to send the gloves back to an authorized testing facility to be retested.
ASTM F496: Standard Specification for In-Service Care of Insulting Gloves and Sleeves
According to the Occupational Safety and Health Administration (OSHA), rubber insulating gloves must be tested before first issue and every six months thereafter; and also upon indication that insulating value is suspect, after repair, and after use without protectors.
This specification tells the wearer how they need to test rubber gloves and covers the in-service care, inspection, testing, and use voltage of insulating gloves and sleeves for protection from electrical shock. In order to maintain the highest level of protection and ensure long life, it is essential that rubber gloves are properly cared for and stored. Before each use, rubber goods should be visually inspected for holes, rips or tears, ozone cutting, UV checking and signs of chemical deterioration, contamination, physical damage, and embedded wires.
ASTM F496 also covers air testing for the in-service care of insulating gloves and sleeves. Basically, the glove is filled with air (either manually or with a power inflator) and then checked for leakage. Type I gloves should be expanded no more than 1.5 times their normal size during the air test and Type II gloves no more than 1.25 times.
ASTM F1236: Standard Guide for Visual Inspection of Electrical Protective Rubber Products
OSHA requires that "protective equipment be maintained in a safe, reliable condition." Gloves should be inspected for tears, holes, ozone cuts and other defects before each use. For more information, refer to the ASTM F 1236 standard guide for the visual inspection of electrical protective rubber products.
Also, gloves should be inspected for any swelling, which is generally caused by chemical contamination (specifically by petroleum products). Even the slightest swelling can be a problem.
If the electrical gloves show any signs of the defects discussed above during inspection, they should be taken out of service for cleaning and retesting (even if they haven't met the six month "in-service" rule or the 12-month shelf life rule outlined above).
Know what standards your gloves need to meet before you purchase because above all, the type of gloves you buy should be compatible with the work you do!