Arc Week Season 4, Ep. 5: "There's No Wrong Time to Do the Right Thing" – Act Today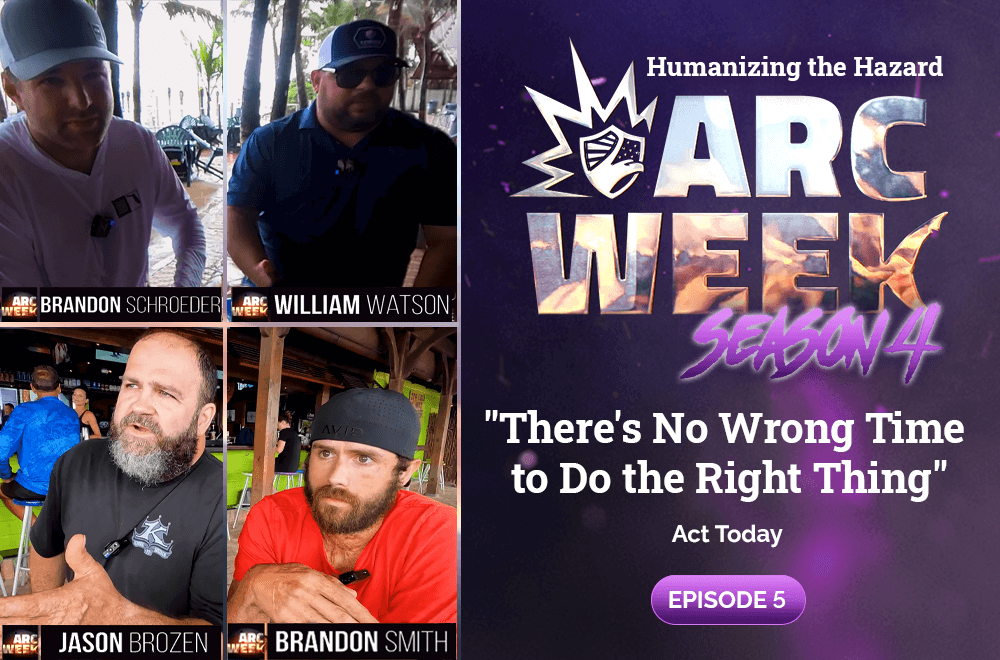 Tyndale presents Arc Week: a unique, week-long educational look at the world of arc flash hazards through the lens of Shark Week. Join Scott Margolin – our dedicated technical expert by day and passionate shark enthusiast in his free time – for engaging, memorable parallels that bring important lessons about risk protection and PPE to life.
Catch it all: Season 1, Season 2, Season 3, Season 4.
The survivors are back, and together again – this time on dry land. In this episode, we dive into lessons from the belly of the beast – for both safety leadership and for other electricians in the field. William Watson, Vice President of Safety at Miller Electric and Chairman of the NECA Large Contractor Safety Group, shares insights spanning training, risk assessment, PPE, and partnering with a quality PPE provider. Then, we step back and take a wider view of our survivors' incidents – what they have in common, and how you can avoid the same mistakes. The season 4 finale starts now:
Important takeaways for safety leadership:
William Watson breaks down important reminders you can start applying today:
There are risks that just aren't worth taking.
Every safety policy has been written because blood has been shed. There have been far too many victims, and now we have correct processes, procedures, and equipment to keep these injuries from happening. It's been proven: these steps and this PPE work. "Nobody else has to prove [the need for] it," William said. And now "[w]e've proven that you can do the work safely. Why wouldn't you?"
It all starts with training and creating a safety culture.
William spoke about the importance of training employees because underneath it all, it's our beliefs that guide our actions when no one is watching. "I want to make believers and not behavers," William said. His goal is to create a culture where people follow the safety program because they believe in it, rather than only behaving the right way when someone is looking.
Even when workers believe, they sometimes find themselves in a bind because the customer prioritizes speed over taking the time to do the job safely. Addressing this issue, William's strategy is to train clients too.  This approach has already demonstrated notable success within his company.
Commit to risk assessment, and only work energized when it's truly justified.
We work energized far too often. And when we do energized work – justified or not – it's vitally important to match the PPE to the hazard. You must know the incident potential for the task at hand. You cannot select the right PPE without it.
William has seen firsthand that PPE works – having personally witnessed instances where electricians wearing the right PPE inside the arc flash boundary have experienced an arc and emerged unscathed.
He recommends AR / FR daily wear for workers who may or may not find themselves working on energized components during the course of their days, and task-based kits for workers who are doing specialized higher voltage work.
Partner with a quality PPE supplier.
William spoke briefly about what to look for in a supplier of AR / FR clothing and PPE. Formerly in an industrial laundry program, he battled service and safety issues. "As a safety professional I don't have time to be in the clothing business…I needed an easy button" William said, and that's what he found in his company's current supplier. The contract was straightforward, the products spoke for themselves, employees have a say in what they wear, and the PPE ships right to their doors.
Important takeaways for electricians in the field:
The survivors' experiences had some key factors in common, highlighting several misconceptions, problematic mindsets, and missteps to avoid:
Assuming you can't get hurt at a lower voltage level. Jason's accident smashes a common misconception that you can't have a sustained arc flash at 120/208 voltage. "I'm here to tell you that you can," he said. The truth is, an arc at that voltage can be catastrophic.
Complacency kills. Even if you've done it a thousand times, it's critical to wear the right PPE.
Rushing isn't worth it. Two of the incidents were caused in part when the electrician was handed a task late in the day and was pressed to finish in time.
Saying "yes" to something you know you shouldn't do, to please the client or the foreman.
The risks with shared and task-based approaches to outfitting workers with PPE. Task-based approaches have their place in the industry but a daily wear approach ensures workers are always prepared for what the day may hold – with no need to change.
Don't wear fuel. In the event of an arc flash, flammable clothing ignites and continues to burn against the skin – feeding the fire and causing extensive burn injuries that are highly susceptible to deadly infections. Most people don't realize that this – and not the arc blast itself – is the main driver of arc flash fatality.
Everyone around the table agreed: "There's no wrong time to do the right thing." If you've found that you've become complacent, or you've been rushed or cut corners, start doing the right thing today. You have the power to be a leader and not only protect yourself but also to empower others to do the same.
Do you have a flash fire – rather than an arc flash – hazard? The hazards may differ, but the valuable lessons in this series are relevant to workers in oil and gas and other industries that use PPE to protect workers from thermal hazards. Tune in!
Thank you for watching season 4 of Arc Week. Please join us in thanking the arc flash survivors who bravely shared their stories as part of this series, in the hopes of saving others from a similar experience – or worse.
Miss an episode? Want to go back and re-watch or share with a colleague? Click here to catch it all on-demand.