Arc Week Season 4, Ep. 4: "Nobody Forgot Their PPE This Time" – The Gang Goes Shark Diving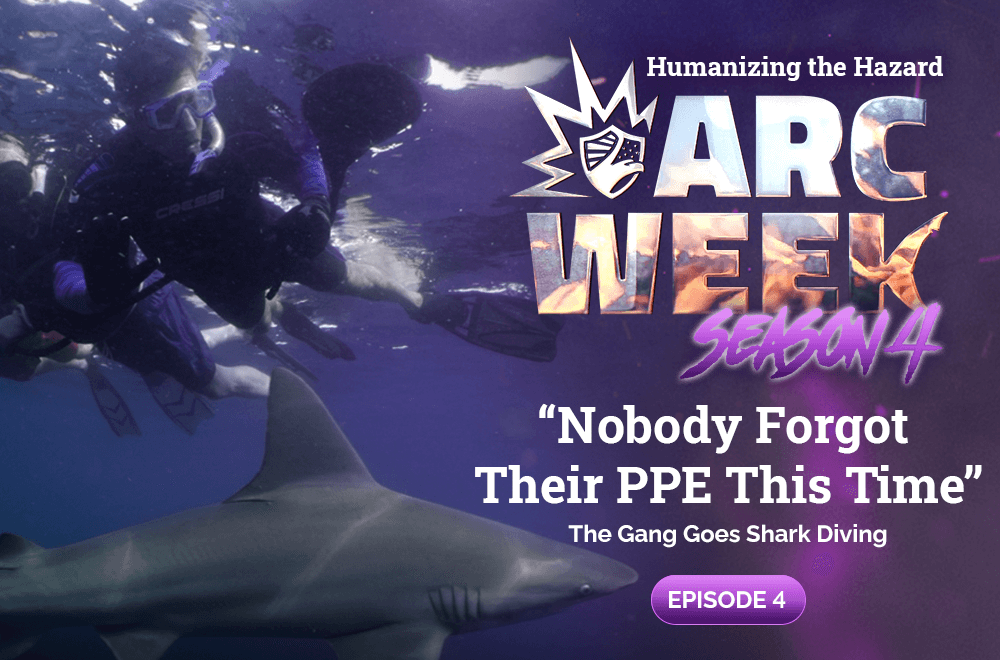 Tyndale presents Arc Week: a unique, week-long educational look at the world of arc flash hazards through the lens of Shark Week. Join Scott Margolin – our dedicated technical expert by day and passionate shark enthusiast in his free time – for engaging, memorable parallels that bring important lessons about risk protection and PPE to life.
Catch it all: Season 1, Season 2, Season 3, Season 4.
We're taking the invaluable lessons learned from arc flash mishaps to new depths—literally. Observe these survivors and William Watson, VP of Safety at Miller Electric and Chairman of NECA's Large Contractor Safety Group, as they navigate a shark dive. Why? To demonstrate that you can do something inherently dangerous, like swimming with sharks, safely – IF you have the right training, PPE, and a trusted guide.
Preparation is Key
Journeying three miles offshore, into the 140-foot depths of shark-infested waters, the divers express their confidence levels, all drawing on experience and wisdom acquired through surviving an "arc attack." While bypassing the risk and simply not partaking in the shark dive was certainly an option, they instead embraced the challenge, with each participant approaching the shark dive equipped with suitable training, the right PPE, and reassurance from a trusted guide - there to provide them with the tools needed to stay safe. Did it pay off? See what happens:
Diving into Safety: Lessons from Shark Diving and Risk Awareness
Training matters: The shark dive began with comprehensive boat and safety training. Just as the divers benefited from training before delving into shark-infested waters, organizations like yours also gain a vital advantage by equipping your workforce with the necessary information. This is the foundation of a safe workplace. By instilling thorough training, your company reinforces a culture of safety, avoiding potential workplace hazards before they arise – and being prepared in the event of the unexpected. This proactive approach not only minimizes workplace incidents but also serves as a barrier against OSHA violations, safeguarding your company's record and reputation. Embrace Tyndale's educational resources to amplify your safety efforts.
Proper PPE matters more: The shark dive underscored the significance of proper PPE. Drawing from the diver's experience, these individuals were reminded that the right equipment can make all the difference. Just as they understood the risks and readied themselves, workers must be equipped with the proper PPE they need to stay safe on the job. And remember, as Brandon Schroeder emphasizes, "you get one chance to make sure safety is a priority and if you don't, you and your family are ultimately going to pay the price." Choose a partner like Tyndale for access to every major arc-rated and flame resistant (AR / FR) clothing brand in the industry.
And trusted partners hold it all together: Partnering with Tyndale isn't just about product selection; it's a strategic move to reinforces your commitment to safety. Our credentials are what sets Tyndale apart – with 40+ years of experience, Tyndale leads workplace safety within the AR / FR clothing industry. Much like the skilled company that guided the shark dive, Tyndale's expertise and resources ensure that you're equipped with the tools and knowledge needed to maintain a safe working environment. We're not just a supplier; we're a partner invested in your safety journey, ready to assist whenever you require our expertise.
A safer tomorrow, today:
Whether facing the dangers of arcs or swimming with sharks, the core elements of safety remain constant. Calmness, comfort, trained personnel, proper PPE, and preparation all intertwine to ensure a secure environment. Just as paying attention and following expert guidance during a shark dive kept the divers safe, the same holds true in the workplace. Rigorous safety briefings, knowing the task, adhering to protocols, matching PPE to the hazard, and looking out for colleagues echo a well-tuned safety plan.