Arc Week Season 4, Ep. 3: "Don't Be Me," The Jason Brozen Story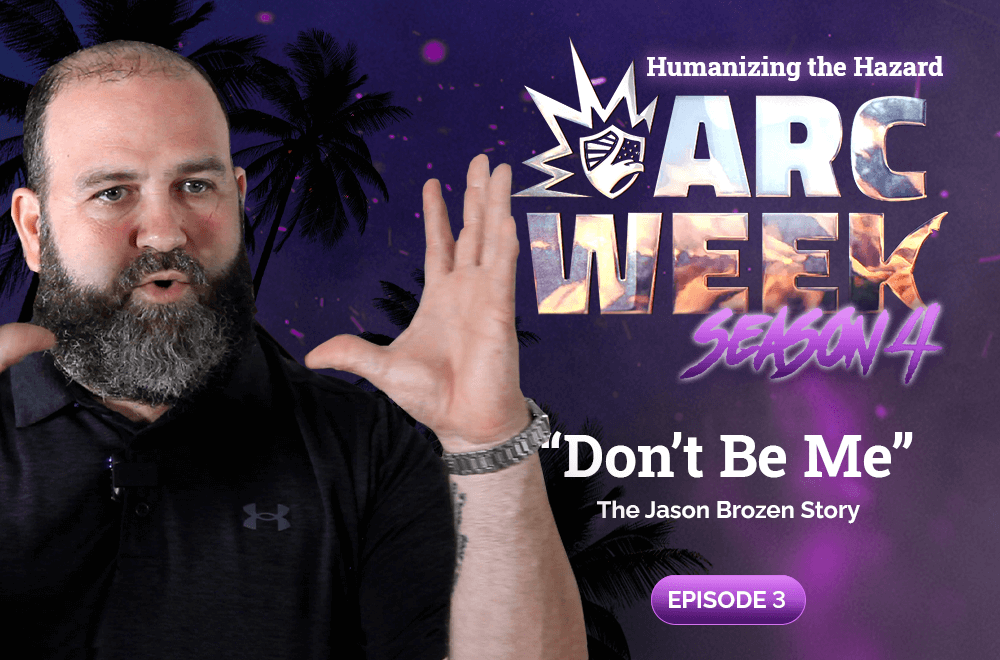 Tyndale presents Arc Week: a unique, week-long educational look at the world of arc flash hazards through the lens of Shark Week. Join Scott Margolin – our dedicated technical expert by day and passionate shark enthusiast in his free time – for engaging, memorable parallels that bring important lessons about risk protection and PPE to life.
Catch it all: Season 1, Season 2, Season 3, Season 4.
"It's pretty low risk since I'm smarter than this hazard." That's what Jason – like many experienced electricians – had come to believe about energized work.
As a master electrician for over 14 years, Jason was installing a breaker in a 2,500-amp piece of gear at a hotel when he found himself in the middle of a major accident. After overlooking a metal rivet in the end of a tool that he was using as part of the task, an arc flash occurred.
Jason knew that PPE was required, but had become complacent about PPE and safety – especially at this lower 120/208 voltage level. Unfortunately, his employer had too. They knew the arc hazard existed, but they hadn't experienced any accidents and in time safety fell to the back of their minds.
When the accident happened, Jason was wearing flammable non-protective workwear and no PPE – no arc-rated and flame resistant (AR / FR) clothing, face shield, safety glasses, ear plugs, or gloves. He was using metal tools and was working energized to minimize hassle for the customer. "Don't be me," he said, "don't make bad decisions like that." What came of those fateful decisions he made that day, and his message to you:
Please be aware: this video contains graphic content and may not be suitable for all audiences. Viewer discretion is advised.
Though it was only an eighth of a second, Jason experienced the arc blast – feeling each cycle – as if in slow motion. He emerged from the blast with burns on "only" 14% of his body's surface area, to his hands and face. But the costs of his incident were severe:
A week in a coma.
Two weeks in the ICU.
The primary financial provider for his family, Jason was out of work for seven months.
He endured intense hand therapy for five months.
He will live with scars for the rest of his life, and experiences phantom nerve pain.
His family was told it was unclear if he would survive.
$1.2M in medical costs.
$65,000 OSHA violation for his company.
Some of the biggest impacts couldn't be seen with the eye.
"You're completely dependent on your family to take care of you," he said. Jason couldn't drive for two months. He couldn't dress or use the bathroom by himself. "…it really affects your pride, your emotional and mental health, not to mention your physical health and the pain that lasts for months and months," he said.
What is Jason's advice to other electricians?
One positive that came out of his accident: Jason found his calling as a corporate safety trainer – and is now part of the Tyndale team. He believes that his life was spared so that he could play a part in saving others. Here is some of his best advice to fellow electricians:
Take control of your own safety, and don't fall victim to the myth of de-energized work.
While it's natural to think most arc flash incidents stem from equipment failure, in reality they are most often caused by the electricians themselves. For this reason, Jason's message is simple: "There is nobody more in charge of your safety than you." Jason's work as a trainer also highlights the dangerous misconception "we don't work energized." Though he often hears this refrain in the field, OSHA and NFPA 70E agree: only a few steps between de-energizing and re-energizing truly qualify as de-energized work. Always wear appropriate PPE for your hazard.
It may be faster and easier, but is it worth your life?
One of the biggest opportunities to prevent an ordeal like Jason's is to stop being complacent. "When you're out there and you decide not to use your PPE, of course it's easier, of course it's more efficient. And 99% of the time you're going to get through it safe. The problem is after you've done that you've trained your brain that it's ok. You've normalized it. So now you're going to skip your PPE every time…the problem is: your decisions are like a row of dominoes. Every time you make a bad decision you flip one of those dominoes. Complacency builds that. In life if you ever do something and hear...that small voice they talk about [questioning your decision], stop what you're doing and go through the risk assessment process," he said.
"That would have saved me and my family months and years of agony."
Do you have a flash fire – rather than an arc flash – hazard? The hazards may differ, but the valuable lessons in this series are relevant to workers in oil and gas and other industries that use PPE to protect workers from thermal hazards. Tune in!
Watch episode 4 for a thrilling twist of events: Tyndale takes arc flash survivors on a shark dive. Together, they'll prove that with the right precautions and mindset, it's possible to tackle something inherently dangerous, safely.