Arc Week Season 4, Ep. 2: "Safety Has to be a Priority," The Brandon Schroeder Story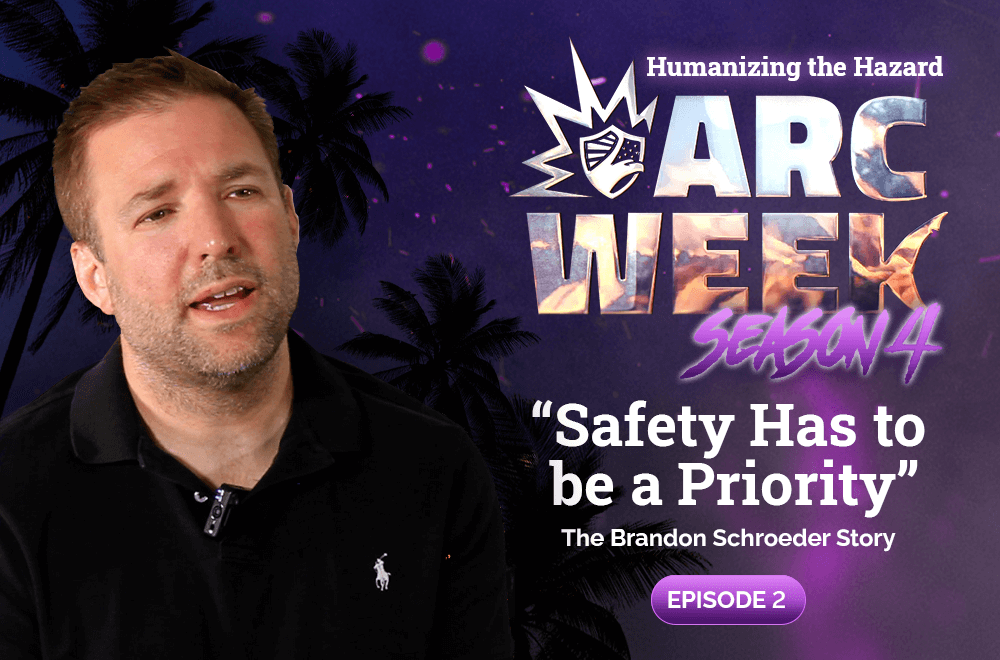 Tyndale presents Arc Week: a unique, week-long educational look at the world of arc flash hazards through the lens of Shark Week. Join Scott Margolin – our dedicated technical expert by day and passionate shark enthusiast in his free time – for engaging, memorable parallels that bring important lessons about risk protection and PPE to life.
Catch it all: Season 1, Season 2, Season 3, Season 4.
"I've done these types of tasks hundreds of times. It did not even seem dangerous to me." That's what Brandon was thinking before he was victim of an arc flash accident that should have taken his life.
Imagine a seemingly ordinary task turning into a life-defining moment. Brandon found himself dealing with a temporary panel and a cord stretching into a parking garage. As Brandon set out to reroute the cord, his path took a sharp turn when this routine task led to a life-altering incident that could have ended it all but instead ignited a new purpose:
Please be aware: this video contains graphic content and may not be suitable for all audiences. Viewer discretion is advised.
"I had a brand-new family. I'm thinking, what am I going to do if I can't go back to do electrical work?" As he relives the incident, Brandon's voice carries a mixture of hindsight and acceptance. Suffering 16% body burn on his face and arms, Brandon remembers looking at his face and thinking, "I don't want to live anymore."
Brandon faced the threat of losing a hand, leading him through a grueling surgical journey that involved grafting strips of skin from his legs onto his hands and arms. Beyond the searing physical agony, he grappled with the dilemma of pain medication—a choice between managing pain and the haunting possibility of its misuse. Amid this struggle, psychological turmoil emerged, entwined with overwhelming anxiety. And as the haze of these struggles gradually dissipated, in came financial strains. In sum, the weight of Brandon's medical expenses soared beyond $300,000. And the shadows of concern loomed over his professional future; he feared for his career due to serious OSHA violations staining his professional record. "Safety has to be a priority" Brandon reflects. 
What led to Brandon's accident?
There were two problems:
First, there was no main breaker on the panel, so the only way to shut off the power was to call the utility company.
The required suits were missing, borrowed by a co-worker for another job.
The choice was stark—should he pause and admit the absence of the proper safety apparel for the job, or forge ahead as the worker he had always been? Brandon chose to forge on.
The explosion that followed was not only unexpected but also life-altering. Though he survived, this incident did more than just inflict physical wounds; it ignited a fierce determination within him. It was as if the accident whispered a new mission into his ear.
A voice of change amidst challenges.
Since that incident, Brandon's life has undergone an irreversible transformation. For Brandon, the accident acted as a catalyst, steering him away from the notion that work was everything; it unveiled life's deeper meaning. The purpose seemed clear: to motivate and encourage wise decisions, not just following routine steps.
Today, Brandon fuels workplace transformation through safety trainings and motivational speeches, divulging his thought process, dissecting mistakes, and charting paths for prevention. Guided by the wisdom born from lived experience, he reflects: "Jobs can be replaced, lives cannot." Brandon's story unveils a pivotal choice forged amidst challenges, an awakening to the significance of seemingly trivial actions that could ultimately cost you your life.
Do you have a flash fire – rather than an arc flash – hazard? The hazards may differ, but the valuable lessons in this series are relevant to workers in oil and gas and other industries that use PPE to protect workers from thermal hazards. Tune in!
Tune into episode 3 to hear from Jason Brozen as he shares insights he gained from surviving life-altering burns, which deprived him of seven months of work, necessitated five months of physical therapy, and changed the trajectory of his life.