Arc Week Season 4, Ep. 1: "Fireball Smith," the Brandon Smith Story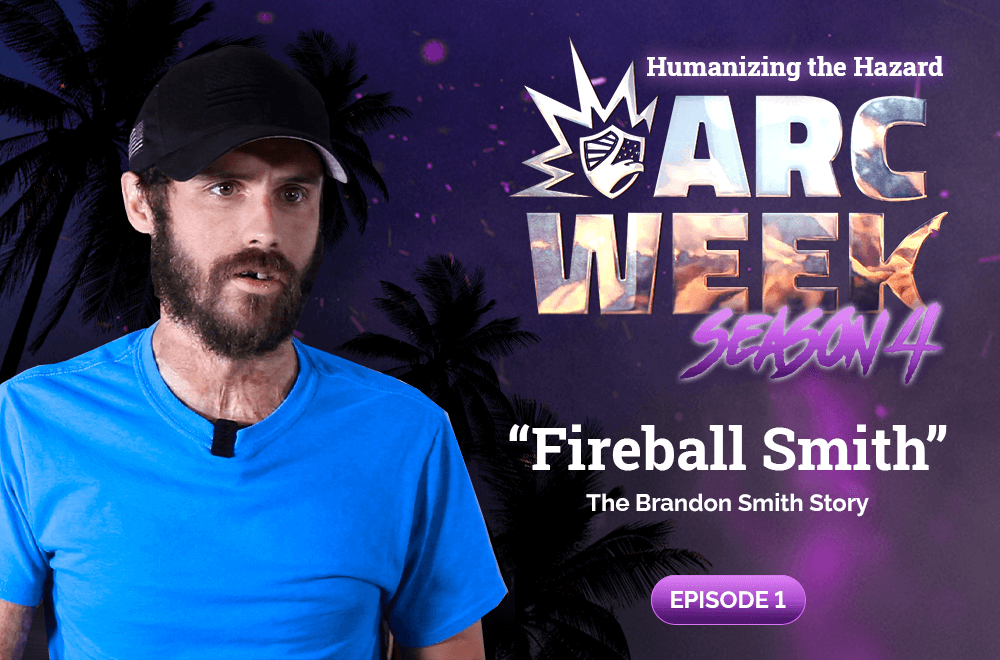 Tyndale presents Arc Week: a unique, week-long educational look at the world of arc flash hazards through the lens of Shark Week. Join Scott Margolin – our dedicated technical expert by day and passionate shark enthusiast in his free time – for engaging, memorable parallels that bring important lessons about risk protection and PPE to life.
Catch it all: Season 1, Season 2, Season 3, Season 4.
"I was five minutes away from losing my life." That's what doctors told electrician Brandon Smith after he faced an arc flash incident.
Pulled from another project to help with a rush job, Brandon was tasked with changing over an old building to a newly-installed transformer. He was wearing a 100% cotton company shirt. As he was about to connect the equipment, he turned to address a colleague and "the next thing I know there was a flash."
Known in good fun amongst his friends as "Fireball Smith" because of his drink of choice, Brandon's nickname took on a chilling second meaning when he came face to face with the jaws of the hazard at work that day. Brandon recounts his ordeal, what he learned, and his advice to other electricians:
Please be aware: this video contains graphic content and may not be suitable for all audiences. Viewer discretion is advised.
Brandon was burned on 41% of his body and given a 68% chance of death based on his injuries. The aftermath included 3 days in a medically-induced coma, 20 surgeries over two years, more than $4.3 million in medical costs, months of anguish, separation from his family – including his baby who was born just two weeks after his accident and his toddler who loved playing with his dad, and lost work time. His injuries continue to affect him today.
Miraculously, Brandon has maintained a positive attitude through it all. The accident changed his life and his perspective on safety. Now, his goal is to help others avoid what he went through. When he thinks back to his accident, "There are a million dominoes that could have fell over another way and prevented this," he said.
What dominoes led to Brandon's accident?
Brandon didn't know the project well, because he was pulled from another assignment to help.
It was a rush job that had to be finished before quitting time.
Though he was aware he was working energized, he never had safety training and didn't know what PPE was required for the task.
Brandon's employer didn't even have the proper arc flash suit for the hazard he faced that day.
He wasn't confident but was trying to prove himself, do his best, and get the job done.
What did he learn, and what does he want other electricians to know?
"Always think ahead; think through your process, make sure you have the proper gear for what you're working with. If you don't know the proper gear, ask somebody. And if they tell you just do it, don't do it. Make sure you've got what you need to get in there safely – and out. If you don't feel comfortable it's okay to ask somebody [more qualified] step in. You [must] have a good level of fear versus of respect for what you're working with."
Brandon urges supervisors and safety directors to absorb all of the training they can, and know exactly what dangers are present so you can ensure you're supplying your workers with the proper gear and training.
Remember, it might "just take five seconds," but five seconds can change your life.
There's a tendency in past generations to brush off safety precautions to just get the job done because "it will only take five seconds," but "that five seconds can change your life. It changed my life," Brandon said. "It could make the difference between going home to your kids and family and not making it out the next day."
Do you have a flash fire – rather than an arc flash – hazard? The hazards may differ, but the valuable lessons in this series are relevant to workers in oil and gas and other industries that use PPE to protect workers from thermal hazards. Tune in!
Watch episode 2 to hear from arc flash survivor Brandon Schroeder. If you've ever thought to yourself, "I'll be fine, I've done these types of tasks 100 times," this episode is for you.