Protective Clothing Strategies to Prevent Heat Stress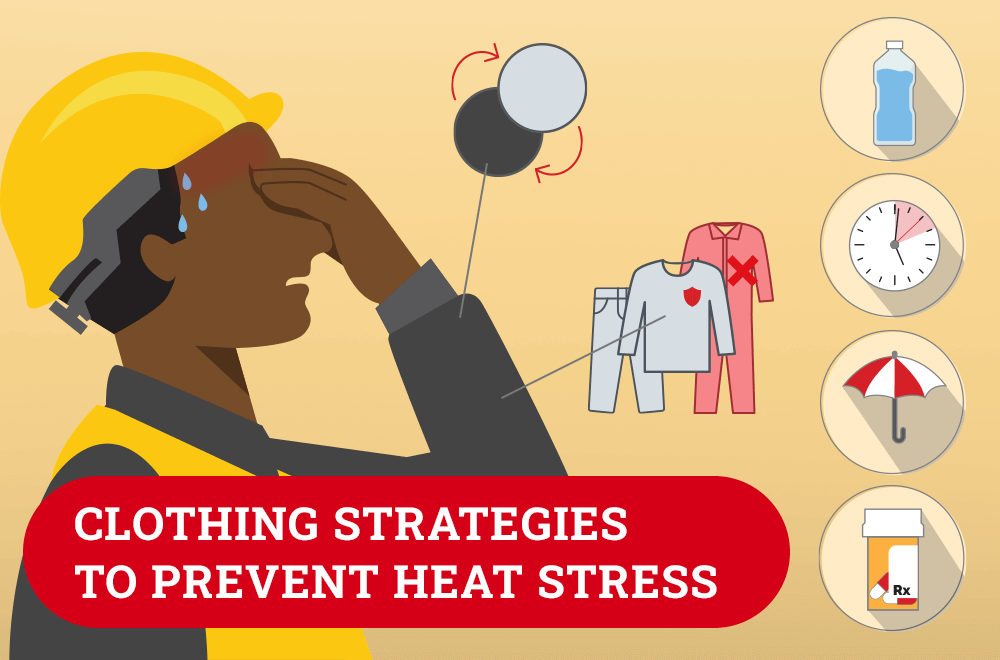 The heat is on! The Farmer's Almanac describes the "dog days of summer" – from July 3 to August 11 each year – as the hottest and most unbearable days of the year. And so far, this entire summer has been blistering hot across North America. After a record-breaking June, the US National Oceanic and Atmospheric Administration (NOAA) confirmed the four hottest days on record – on the entire planet – at the start of July.
Unfortunately, hot and humid working conditions can trigger an increase in heat-related illnesses. To combat the rising risk of workplace heat stress due to increasing temperatures, OSHA issued a three-year National Emphasis Program (NEP) last summer to protect workers from extreme heat. OSHA proactively looks for heat hazard violations in 70 targeted high-risk industries when a heat warning or advisory is issued.
Workers wear protective clothing to stay safe on the job, but do those clothes make them more vulnerable to heat stress? Scott Margolin, Tyndale's Vice President of Technical, answers this question in the video below.
Does protective clothing contribute to heat stress?
As Scott explains, OSHA, the CDC, and the National Institute for Occupational Safety and Health (NIOSH) agree on the four primary causes of heat stress:
Dehydration: A lack of hydration reduces sweat. Sweating is integral to staying cool because it releases heat from our bodies. Workers should be sure to drink plenty of water while working.
Lack of rest breaks: We build up metabolic energy while doing physical work. Periodic breaks are critical to dissipating that energy.
Lack of shade: The sun is a radiant heat load. It's essential for workers to take breaks in the shade and rehydrate with clear liquids while doing so.
Existing medical conditions or medications: Certain illnesses and medications can exacerbate heat stress. Be aware of these risk factors, adjust workloads, and increase breaks accordingly.
You may notice that the three leading government authorities above do not include clothing as a primary cause of heat stress. They understand that single-layer breathable protective apparel – including long-sleeved, arc-rated and flame resistant (AR / FR) clothing – is NOT a significant factor contributing to heat stress. This is true whether the clothing is AR, FR, or non-FR, despite the fabric weight or sleeve length of the garment. In fact, long sleeves minimize heat stress by shielding the wearer from sun exposure, a radiant heat load, and protecting against arc flash and flash fire hazards.
Single-layer daily wear vs. double-layer task-based AR / FR clothing
Does this mean that protective clothing never contributes to heat stress? Absolutely not! The key is to be strategic when choosing protective clothing. OSHA's Clothing Adjustment Factor (CAF) table, developed by The American Conference of Governmental Industrial Hygienists (ACGIH), indicates how certain categories of work clothing contribute to heat stress:
Single-layer clothing – such as a long sleeve shirt and pants or cloth (woven) coveralls worn directly over undergarments – have a CAF of zero and do not contribute to heat stress.
Non-breathable single-layer garments – such as SMS polypropylene or polyolefin coveralls worn directly over undergarments – have a CAF of 0.9°F (0.5°C) – 8°F (1°C), only slightly contributing toward possible heat stress.
Double-layer clothing – such as task-based coveralls worn over clothing – have a CAF of 4°F (3°C), contributing more toward possible heat stress.
Limited-use vapor-barrier coveralls have a CAF of 19.8°F (11°C), increasing the risk of heat stress significantly.
How does single-layer breathable clothing affect heat dissipation?
Our bodies cool themselves by radiating heat into the atmosphere. When the ambient temperature rises, evaporative cooling occurs. During this process, sweat carrying excess heat rises to the skin's surface to evaporate and dissipate the heat, which lowers our body temperature.
If your clothing allows radiant heat to escape via evaporating sweat, your body's cooling mechanisms are not interrupted and function as they should. Breathable garments or garments with moisture wicking fabrics are particularly effective at helping the body dissipate heat.
However, impermeable garments and multiple-layer garments DO impede radiation and evaporation, which can contribute to heat stress. Wearing a double layer of clothing, like a 40 cal arc flash suit or coveralls over a pant/shirt combo, has the same effect as adding 5.4°F to a worksite's temperature. This may not seem like much, but it's enough to push the temperature into an unsafe range – especially when combined with strenuous work or other factors.
Protective clothing strategies to prevent heat stress
Keeping workers safe should always be a top priority. That's why employers are tasked with recognizing the risks of environmental heat hazards and developing workplace strategies that prevent heat stress. To keep workers cool on the job, employers should keep these protective clothing strategies in mind:
Outfit workers in single-layer breathable AR / FR clothing instead of multi-layer protection, such as coveralls over clothing, which reduces the body's ability to dissipate heat. Remember, a single-layer daily wear garment protects against arc flash and flash fire hazards without contributing to heat stress.
Light-colored clothing is preferable to dark colors, which can be several degrees hotter because it traps heat from the sun. Light-colored, loose-fitting, breathable clothing is best.
Leverage the availability of dozens of fibers, fabrics, weights, garment styles, and brands. Offer your employees a wide selection of garments to choose from to provide maximum comfort, satisfaction, and compliance.
Looking for additional information on preventing heat stress in the workplace? Visit The National Institute for Occupational Safety and Health (NIOSH) Heat Stress resource page.