Spin Cycle: Washing Away AR/FR Home Laundry Misconceptions
Is home laundering safe when it comes to the care and maintenance of arc-rated and flame resistant (AR / FR) clothing? Absolutely!
But common sales tactics used by uniform rental companies attempt to convince workers and businesses alike that industrial laundering is a requirement. They likely offer industrial laundry services as part of their uniform rental program and aim to convince you that it's the only solution.
In our new series Spin Cycle, we examine these claims and their inaccuracy.
What to Expect
Slight spoiler alert: The truth is, all AR / FR apparel Tyndale sells is, and always has been, safe to launder at home. But uniform rental companies often say that your AR / FR clothes' protective properties and flame resistance can be hindered by using bleach or fabric softener, an accumulation of non-FR lint on the garment, or long-term wear.
Below, our host Scott Margolin, Vice President of Technical, gives a quick overview of how we put those claims to the test.
Data Supported by Safety Experts
While Tyndale is an industry leader in testing AR / FR garments against real-world hazards, we're not the only organization to research the effects of various laundering methods on protective clothing.
In a 2016 study, Hugh Hoagland, founder of ArcWear and one of the pioneering experts on arc testing and electrical safety, exposed AR / FR fabric samples to liquid chlorine bleach (50 cycles), oxidative bleach (50 cycles), and fabric softener (100 cycles). Then, he put the laundered fabric samples in a vertical flame chamber to test their flame resistance. The results? When compared to industry requirements of ASTM F1506, the tested fabrics performed as expected and flame resistance was not impacted by the various laundering methods tested.
Tyndale has taken Hoagland's research a step further by replicating his fabric tests but with full garments and then exposing them to arc flash hazards. Our five-part series contains compelling video evidence to dispel the laundry myths propagated by uniform rental companies.
Let's face it: no matter your industry, if you wear AR / FR apparel, you must have access to clean garments. Don't let uniform rental companies steer you wrong – we have proof that home laundering won't damage or compromise your protective clothing. Watch the episodes below – seeing is believing!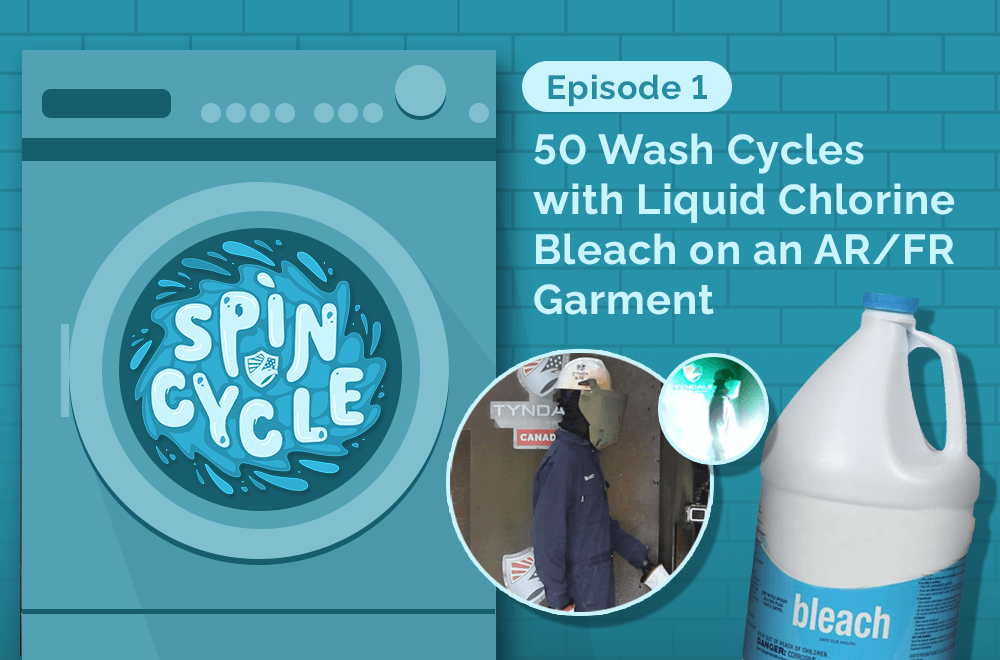 Episode 1 – 50 Washes with Liquid Chlorine Bleach
All labels in AR / FR clothing say that using liquid chlorine bleach is prohibited. But what happens if you accidentally wash your AR / FR clothing using bleach? Uniform rental companies say any exposure to liquid chlorine bleach removes the garment's arc protection and flame resistance. In this episode, we put that claim to the test – with a garment that's had not just one wash, or ten, but 50 wash cycles using chlorine bleach!
Episode 2 – 50 Washes with Oxidative Bleach
Many laundry detergents contain oxidative bleach products, but is oxidative bleach safe to use on AR / FR clothing? The uniform rental companies say no, but our realistic test shows a different result. Head back to the lab with Scott to see what happens.
Episode 3 – 50 Washes with Fabric Softener
Fabric softener is a little different than the previous two tests – in fact, it's the exact opposite. Fabric softeners, which are flammable, coat the fabric with a thin layer of waxy film. Wouldn't having that waxy, flammable layer on your AR / FR clothes spell trouble – especially after 50 launderings with fabric softener? It seems reasonable on paper, but how about in the lab?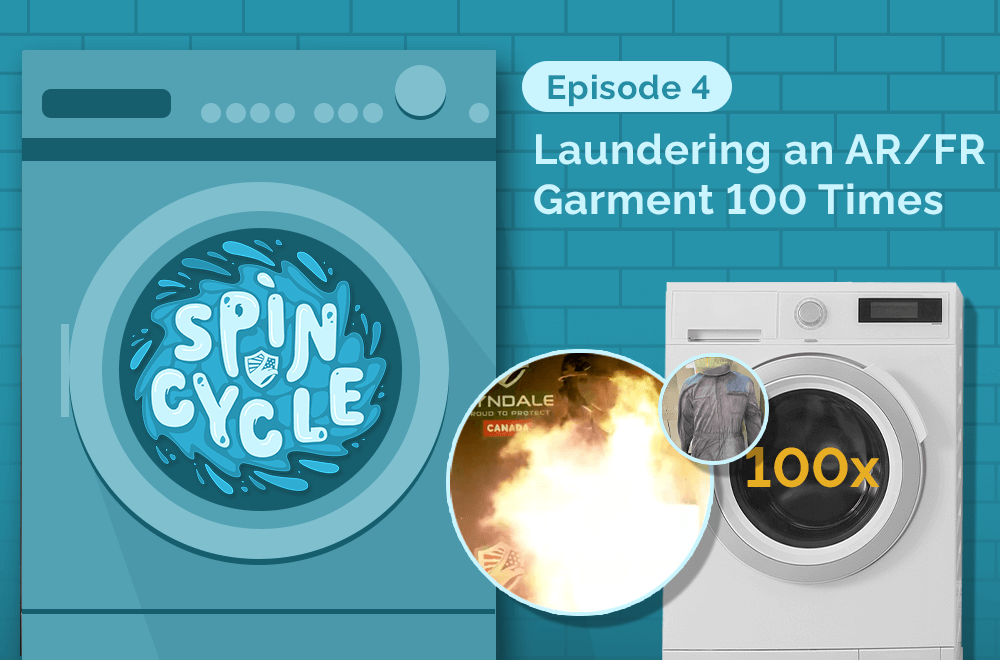 Episode 4 – 100 Washes
Wearing AR / FR clothes on the job every day means frequent wash cycles. One of the most common myths told by the uniform rental industry is that after enough washes, the arc protection and flame resistance simply washes out of the garment. Join Scott to see if this myth is busted.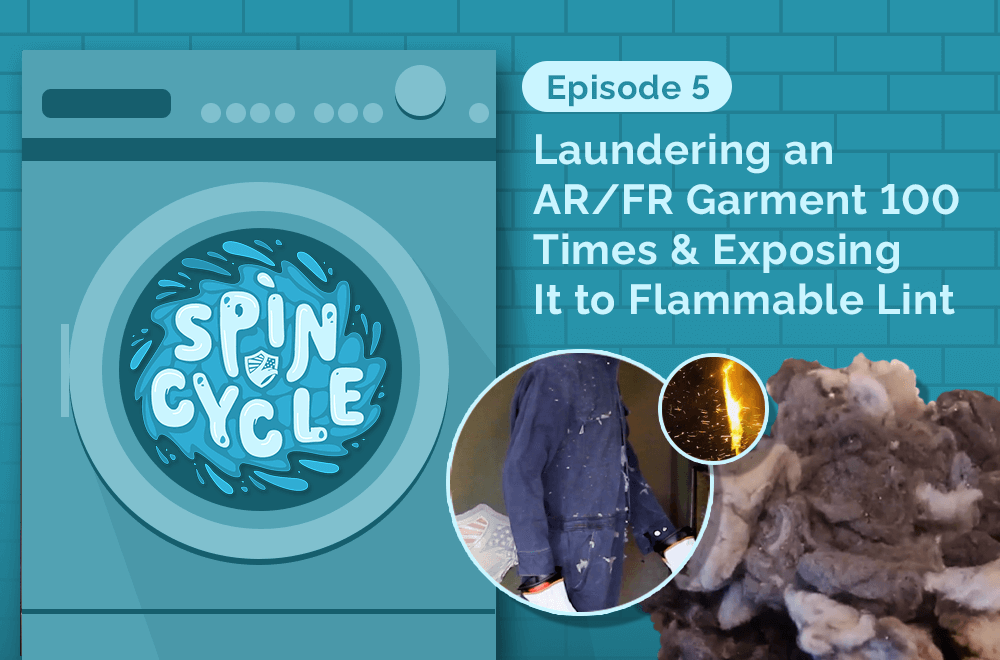 Episode 5 – 100 Washes with Lint
Uniform rental companies tell you not to launder your AR / FR apparel at home because it'll mix with your flammable clothes, which will get flammable lint on your AR / FR clothes and cause them to fail. To test their theory, we laundered an AR / FR garment 100 times, covered it with five lint traps' worth of lint, and exposed it to an arc flash.
Remember, Tyndale does not endorse the intentional use of bleach, oxidative bleach, or fabric softener when laundering AR / FR clothing, as it is prohibited by safety standards.  We always emphasize the importance of wearing AR / FR clothing – and wearing it properly. That includes learning how to properly launder your AR / FR clothing and recognizing false information when it comes to laundering your garments.
ASTM F2757, Standard Guide for Home Laundering Care and Maintenance of Flame, Thermal and Arc Resistant Clothing, clearly states, "When garments are laundered properly, using the proper detergent, home laundering is an effective cleaning process." We're proud to illustrate that most AR / FR clothing is safe to launder at home, and always has been.
Take Care of Your Clothes and They'll Take Care of You
Tyndale takes AR / FR clothing maintenance seriously. That's why we're dedicated to educating workers and companies about misconceptions surrounding the laundering of AR / FR garments.
Seeking a Next-Generation Solution for AR / FR Clothing?
Discover a supplier who provides quality products, consistent service, in-depth education on care and maintenance, and industry leadership.
Already in a Tyndale Program?
Order today and feel confident about laundering your garments safely at home.
Share this page to inform others about common misconceptions around laundering AR/ FR garments and learn the truth about home laundering protective clothing: