What are Tyndale's Top Safety Tips for Summer 2023?
Summer is right around the corner! And while we typically enjoy many fun summertime activities, such as going to the beach, hiking, and camping, the season also presents some safety issues. Stormy weather, heat-related illnesses, skin damage from the sun's UV rays, and bug bites require extra precautions, which are especially important for those who work outdoors, which is why we've rounded up our top four safety tips – plus a bonus tip – to keep in mind as temperatures rise.
Tip #1: Continue to monitor weather conditions on the job
Thunderstorms are bound to strike when the summer starts. When working outside, paying attention to all weather reports, forecasts, and emergency notifications is essential. Workers must also be alert for darkening clouds, increased wind speeds, and rumbles of thunder, indicating developing thunderstorms. Need more information on selecting the proper arc-rated and flame resistant (AR / FR) rainwear and other ways to stay protected on the job site when weather conditions deteriorate? Find our best thunderstorm safety practices outlined in the post below:
Tip #2: Beat the heat by dressing appropriately without compromising compliance
Working outside for an extended period can expose workers to the risk of heat stress which can cause nausea, vomiting, and dizziness and lead to heat stroke, a serious medical emergency. Due to the increased threat of heat-related illness, OSHA launched a three-year targeted National Emphasis Program in 2022 to protect workers from the danger of extreme heat. This means OSHA will be proactively looking to cite employers in 70 targeted high-risk industries.
The best way to beat the heat in summer is to stay hydrated and dress appropriately. If you are required to wear AR / FR clothing in hot temperatures, switching from double-layer task-based protective clothing to single-layer breathable daily wear for AR / FR clothing keeps you cooler on the job and significantly lowers the risk of heat stress. Always remain vigilant about compliance; AR / FR clothing doesn't protect you unless it's worn and worn properly. See how you can prevent heatstroke and other heat-related illnesses by reading the post below:
Tip #3: Determine which products are safe to use with AR / FR clothing
When the temperatures begin to rise, it's important to stay protected from summer season hazards like sun exposure and disease-carrying biting insects. But when working in an environment that exposes you to arc flash or flash fire hazards, you must evaluate the products you apply to your skin, as some may be flammable and present a burn hazard in your workplace. You may want to consider Tyndale's complete line of AR / FR clothing that's pre-treated with Perimeter Insect Guard – an insect-repellent treatment called permethrin proven safe in arc and flash fire exposures and lasts for 50+ launderings.
Find out the best solutions for protection from sun exposure and biting insects by reading the post below:
Tip #4: Consider sun protection, even when most of your skin is covered
Since AR / FR fabrics have similar construction, fabric composition, and weight to non-FR clothing, your AR / FR garments provide very similar UV protection to its non-FR counterparts. Not sure which AR / FR garments provide the best protection against UV rays? Read the post below to find out which fabrics keep you safe when the sun is at its strongest:
Bonus Tip #5: Add Carhartt's FR 4.7oz. Long Sleeve Shirt to your Wardrobe – Available Now from Tyndale
Carhartt FR Force® Lightweight 4.7oz. Shirt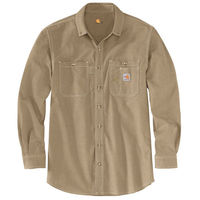 Made of breathable honeycomb weave fabric, with sweat-wicking and FastDry® technology, Carhartt's FR Force® Lightweight 4.7oz. Shirt keeps you cool as temperatures rise to ensure all-day comfort and protection. Carhartt's shirt meets the performance requirements of NFPA 70E / ASTM F1506 and is UL® classified to NFPA 2112. Don't wait! Shop this lightweight long sleeve in available colors!