How Does NFPA 70B Fit with NFPA 70 and NFPA 70E?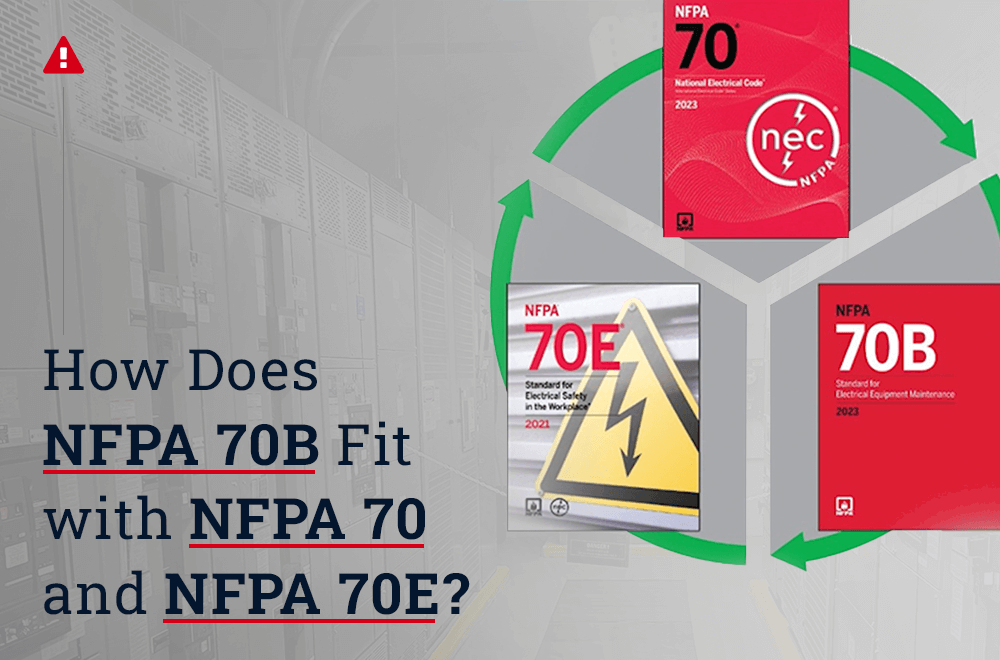 Last week we shared that NFPA 70B, Standard for Electrical Equipment Maintenance, was recently upgraded from a guide – that is a recommended practice indicating what you should do, to a standard – making it a requirement indicating what you shall do. As a result, there is a strong likelihood most of the country will soon begin to voluntarily adhere to NFPA 70B. But how does this standard fit with NPFA 70, the National Electric Code, and NFPA 70E, Standard for Electrical Safety in the Workplace?
Scott Margolin, Vice President of Technical, walks us through the relationship between these three standards:
To best understand how these standards work together, think of them as the legs of a stool. As Scott explains in the video above, NFPA 70 addresses installation, NFPA 70E addresses the safety of the workers, and NFPA 70B addresses the preventive maintenance of the equipment. As standards, they're all on equal ground – resulting in even footing for our stool:
NFPA 70 National Electric Code (or NEC)
The NEC is all about the safe installation of electrical wiring and equipment. While it's not in itself a law, it's widely adopted by Authorities Having Jurisdiction (AHJs). In fact, in one form or another, it's adopted by all but five states in the USA.
NFPA 70E, Standard for Electrical Safety in the Workplace
NFPA 70E is the leg of the stool that addresses worker safety. As you likely know, it addresses worker safety for hazards like shock, electrocution, arc flash, and arc blast.
NFPA 70B, Standard for Electrical Equipment Maintenance
With its new status as a standard containing proscriptive language that is to be followed, NFPA 70B has become the third leg of the stool and completes the equation by addressing preventive maintenance.
What Does OSHA Have to Say About It?
In its Annex A, OSHA references both NFPA 70 and NFPA 70E. In turn, in NFPA 70E there's an informational note that sends users to NFPA 70B for maintenance performed on electrical equipment and related systems.
In short, OSHA points to both NFPA 70 and 70E, which then point to NFPA 70B – creating a clear line between OSHA and NFPA 70B.
What are the potential implications of NFPA 70B as a newly-required preventive maintenance standard? Check out our next post to find out.