BREAKING: NFPA 70B Status Change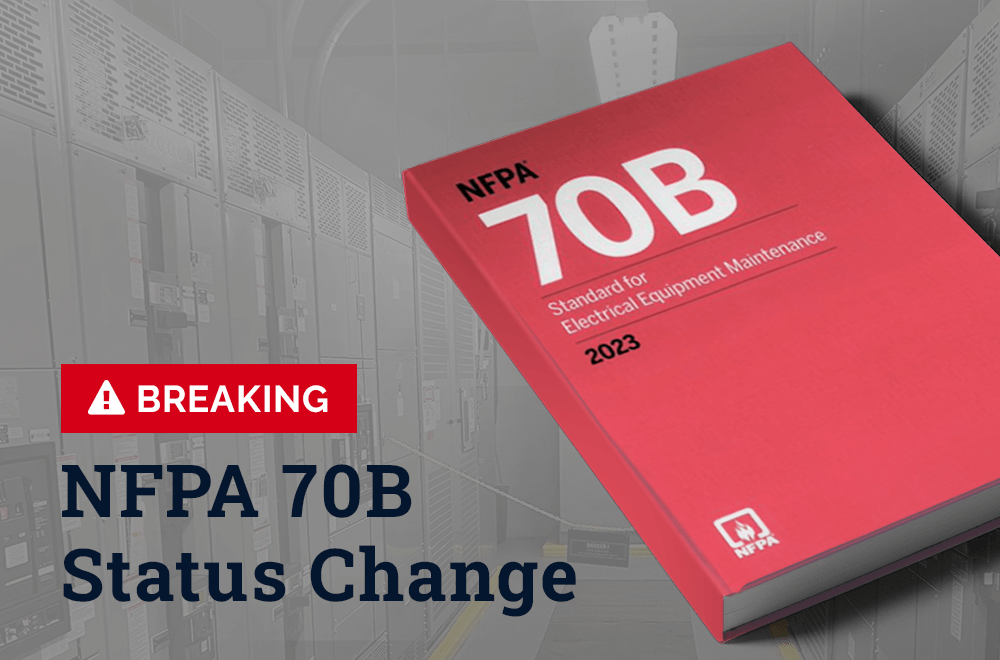 You've heard of NFPA 70, the National Electric Code – the benchmark for safe electrical design, installation, and inspection to protect people and property from electrical hazards. This standard guides non-utility electrical work, setting the rules for commercial and industrial electricians. However, it doesn't focus on safe work practices or preventive maintenance – there are separate codes for those functions:
You are likely familiar with NFPA 70E, Standard for Electrical Safety in the Workplace, which helps companies and their workers avoid workplace injuries and fatalities due to shock, electrocution, arc flash, and arc blast.
You may be less familiar with NFPA 70B, Standard for Electrical Equipment Maintenance, which governs preventative maintenance for electrical equipment used in industrial, institutional, commercial, and large multi-family residential dwellings and is aimed at preventing equipment failures and related injuries.
But if you're less familiar with NFPA 70B that will soon change: formerly a guide – that is a recommended practice indicating what you should do, NFPA 70B recently underwent a status change to a standard – making it a requirement with proscriptive language (indicating what you shall do).
Scott Margolin, Vice President of Technical, explains NFPA 70B and breaks down this important status change:
Who can require compliance with NFPA 70B?
To make compliance mandatory, an Authority Having Jurisdiction (AHJ) – typically a city, state, or municipality – will need to formally adopt it. Once that happens, commercial and industrial electricians will be required to follow this standard.
In the meantime, most of the country already voluntarily follows NFPA 70E – also a standard – and there is a strong likelihood the same will be true of NFPA 70B.
What else is different in the new issue of NFPA 70B?
New information in chapter nine (9), which includes a table indicating how often to perform what tasks on what equipment to maintain it. While past versions of chapter 9 did not take the condition of that equipment into account, the new chapter 9 does – looking at operating condition, criticality, and operating environment to assign a score which maps to frequency of required maintenance.
In our next posts, we take a closer look at how NFPA 70B fits in with the other standards, and additional implications of NFPA 70B's new status – both in the near- and medium-term future – as a standard. Stay tuned!