Lockout/Tagout Makes OSHA's Top 10 Safety Violations List for Fiscal Year 2022 – Again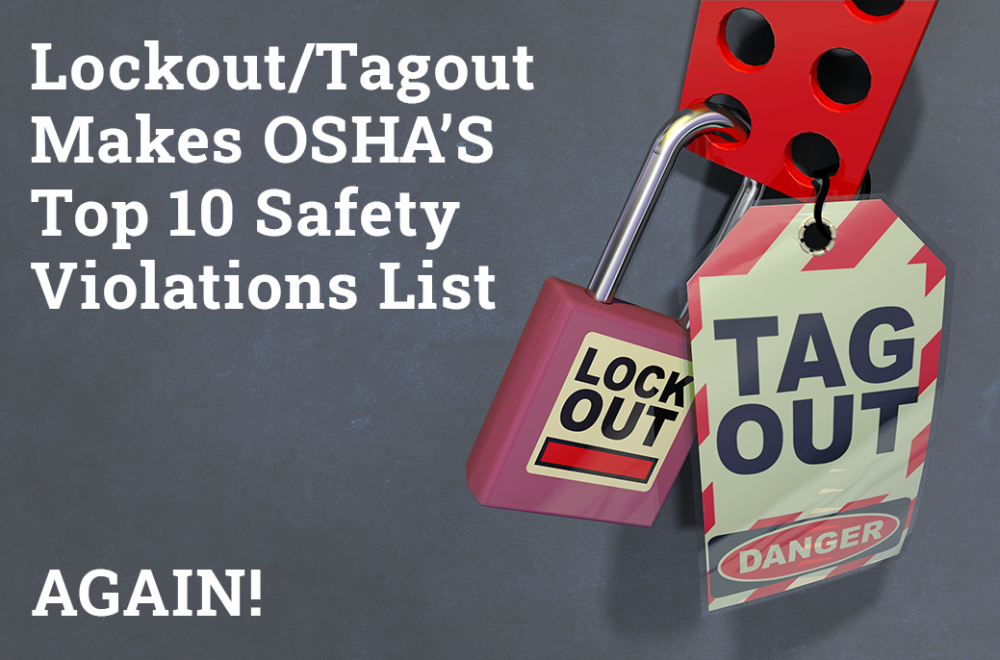 OSHA's preliminary list of the Top 10 Safety Violations for 2022 has been announced, and lockout/tagout made the list again. With 1,977 violations cited related to OSHA 1910.147 – the control of hazardous energy (lockout/tagout) – noncompliance with this standard comes in sixth place on the list of most frequently penalized OSHA standards.
Lockout/tagout (LOTO) is a procedure to ensure any energized equipment has been properly de-energized to create a safe work condition.  Article 100 in NFPA 70E, Standard for Electrical Safety in the Workplace, defines the phrase "electrically safe work condition" as "A state in which an electrical conductor or circuit part has been disconnected from energized parts, locked/tagged in accordance with established standards, tested to ensure the absence of voltage, and grounded if determined necessary."
The purpose of performing a proper LOTO procedure is to prevent injuries and fatalities from the unexpected accidental release of energy, startup of machines or equipment, or release of energy during service, repair, maintenance, operation, and associated activities.  According to OSHA, compliance with the lockout/ tagout standard prevents an estimated 120 fatalities and 50,000 injuries each year. However, confusion around what is properly de-energized still leads to 30% of arc flash injuries each year.
In episode 5, 'Shooting Down the Myth of De-energized Work' of Arc Week Season 3, we explain why assuming you're working de-energized could lead to a potentially fatal accident. As a top-cited workplace penalty, there is no question that OSHA takes LOTO very seriously. Find out what retired OSHA Director David Wallis has to say about "de-energized" work and what's considered live.
Every December, Safety and Health magazine digs further into OSHA's Top 10 most cited standards. Stay tuned and check back for a detailed explanation of each standard on the most-cited list. Tyndale remains committed to the safety of our workers and yours. We encourage you to consult resources such as the FRC Technical Safety Library on TyndaleUSA.com for ideas on how you can embed safety even deeper into the DNA of your company.