Proud to Protect Canada – Episode 12: CSA Z195 & Jurisdictional Regulations Governing Protective Footwear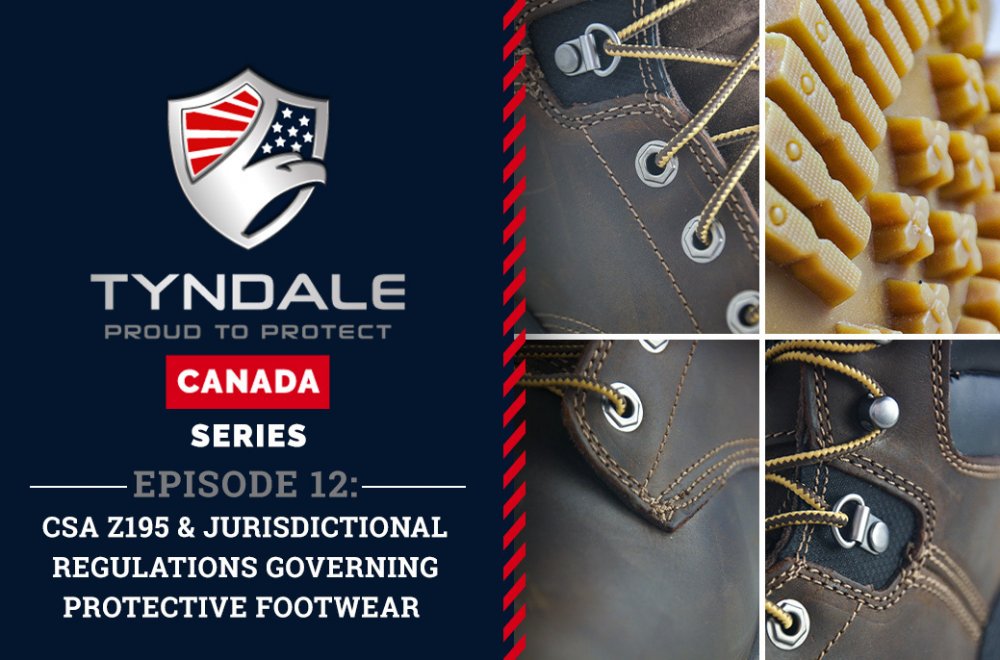 In previous episodes of our Proud to Protect Canada series, we reviewed the safety standards and jurisdictional requirements governing arc-rated and flame resistant (AR / FR) clothing and we looked at high visibility safety apparel (HVSA) standards and provincial regulations. In this final episode of our series, we examine CSA Z195, Canada's protective footwear standard. We also identify and clarify the provincial regulations that do not specifically address this standard, reference other protective footwear standards, or use slightly different language in their jurisdictional requirements. Once again, we turn to Sara Olsen, Tyndale Canada's Technical Advisor, to help us understand the various jurisdictional regulations and, as always, encourage you to review the legislation in your particular jurisdiction for specific requirements related to your type of work.
CSA Z195 Protective Footwear Overview
CSA Z195 Protective Footwear governs protective footwear and includes design and performance requirements and testing equipment and procedures for the following:
Toe impact resistance; two grades
Sole plate performance
Metatarsal protection
Electric-shock protection
Sole flex durability
Conductivity
Chainsaw protection
Static-dissipative footwear
Slip-resisting footwear
Electric arc flash and flame protection, firefighter footwear, spiked climber's footwear, and riot boots are not covered in this standard. The standard includes various categories of protection, and footwear must be labeled conspicuously and permanently to indicate the protection category along with manufacturer/brand, certification, and other information. Categories of protection include:
Grade 1 – Sole and toe protection from 125-joule impacts
Grade 2 – Sole and toe protection from 90-joule impacts
Electric-shock resistant
Static dissipative
Conductive
Chainsaw protective
Additional protection class markings indicate if the footwear is puncture resistant or offers metatarsal impact protection.
Provincial Protective Footwear Regulations in Canada
As Sara explains, protective footwear regulations are relatively straightforward from a legislative standpoint, since nearly all jurisdictions, including the federal level, directly reference CSA Z195 Protective Footwear. There are only two provinces that do not reference CSA Z195 in their legislation:
Saskatchewan requires that protective footwear be appropriate to the risks. This broad wording means that CSA Z195 could confidently be used to match the appropriate protective footwear to on-site hazards.
Ontario requires an impact-resistant toe box in areas where workers are at risk for impact injuries and puncture-resistant soles in areas where workers are at risk for puncture injuries. This is in line with CSA Z195, which offers protection at or above Ontario's requirements for boots rated for impact and/or puncture resistance.
Sara goes on to mention three provinces which reference other protective footwear standards as an alternate to CSA Z195:
Alberta allows the option of ASTM F2413-compliant footwear in place of CSA Z195 compliance. ASTM F2413 Standard Specification for Performance Requirements for Protective (Safety) Toe Cap Footwear is more commonly used in the United States and is their standard for protective footwear.
Yukon allows the option of ANSI Z41* compliance as an alternative to CSA Z195.
British Columbia accepts ANSI Z41* and British standards BS EN 345 Safety Footwear for Professional Use** and/or BS EN 346 Specification for Protective Footwear for Professional Use** as alternative standards to CSA Z195 for protective footwear compliance.
* ANSI Z41 Standard for Personal Protection Protective Footwear was formally withdrawn in 1999 and replaced by ASTM F2412 Standard Test Methods for Foot Protection and ASTM F2413 Standard Specification for Performance Requirements for Protective (Safety) Toe Cap Footwear.
** BS EN 345 Safety Footwear for Professional Use** and/or BS EN 346 Specification for Protective Footwear for Professional Use have been superseded by ISO 20345 Safety Footwear and ISO 20346 Protective Footwear, respectively.
Takeaway
As always, regarding PPE, it's essential to match the protection to the hazards. Some common risks to consider are the potential for slips, trips, uneven terrain, abrasion, ankle protection, foot support, musculoskeletal injury, crushing potential, temperature extremes, corrosive substances, puncture hazards and electrical shock. CSA Z195 is the go-to Canadian guideline on the selection, use, and care of protective footwear. The Canadian Centre for Occupational Health & Safety recommends selecting CSA-certified footwear (or other certified footwear if permitted in your jurisdiction) and ensuring that it has the proper rating for the hazard and the proper sole for the working conditions.
Series: Proud to Protect Canada
Follow along with this series to explore our educational resources for companies and workers based in Canada. You'll meet the technical and market experts from our Canada team and find everything from the basics on the hazards, to PPE and labeling requirements, a closer look at key safety standards and the hierarchy of standards and regulations in Canada, employer responsibilities under the Canadian Labour Code, and more.