Introducing Front Line Fabric's Groundbreaking Regulator™ FR Fabric
Introducing the first of its kind – fabric that keeps you warm in cool weather and cool in hot weather –the iFR Regulator™ flame resistant fabric from Front Line Fabrics (FLF)
Brought to Tyndale by FLF , makers of Tyndale's exclusive FRMC® inherent flame resistant (FR) fabrics, the new Regulator™ fabric is the most groundbreaking in its design, as the only FR fabric that keeps you warm in cool weather while also allowing for exceptional breathability in hot weather. In addition to helping regulate body temperature, this fabric is designed to be moisture wicking and quick drying with an element of stretch for comfort. As a bonus, its waffle-knit construction is stylish enough to wear off the job.
Tune is as we hear from FLF's very own, Director of Business Development, Chris Fuller on how this garment is manufactured to perform year-round, in various weather conditions:
How It Works:
When worn as a base layer in cool weather, the Regulator™ fabric's enhanced loft traps air and provides a superior insulation compared to regular t-shirts and other FR base layers.
When worn as a single layer in warm weather, the Regulator™ fabric's unique knit offers the most breathable FR CAT 1 NPFA 2112 certified fabric on the market.
Technical Specifications:
This lightweight and breathable knit fabric is patent pending and provides dual hazard protection meeting protection requirements of ASTM F1506 and NFPA 2112.
Arc rating: 4.9 cal/cm2
CAT 1
4.8 oz.
Put It to the Test!
Put this fabric to the test with Tyndale's new Versa men's long sleeve crew neck base layer (M09MT ) – a performance shirt designed to keep you comfortable on the job without slowing you down.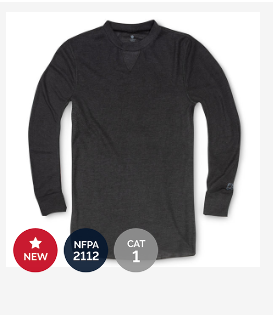 Download the printable flyer for quick facts about Front Line Fabric's Regulator™ Fabric: