What are Tyndale's Top Tips for Summertime Safety?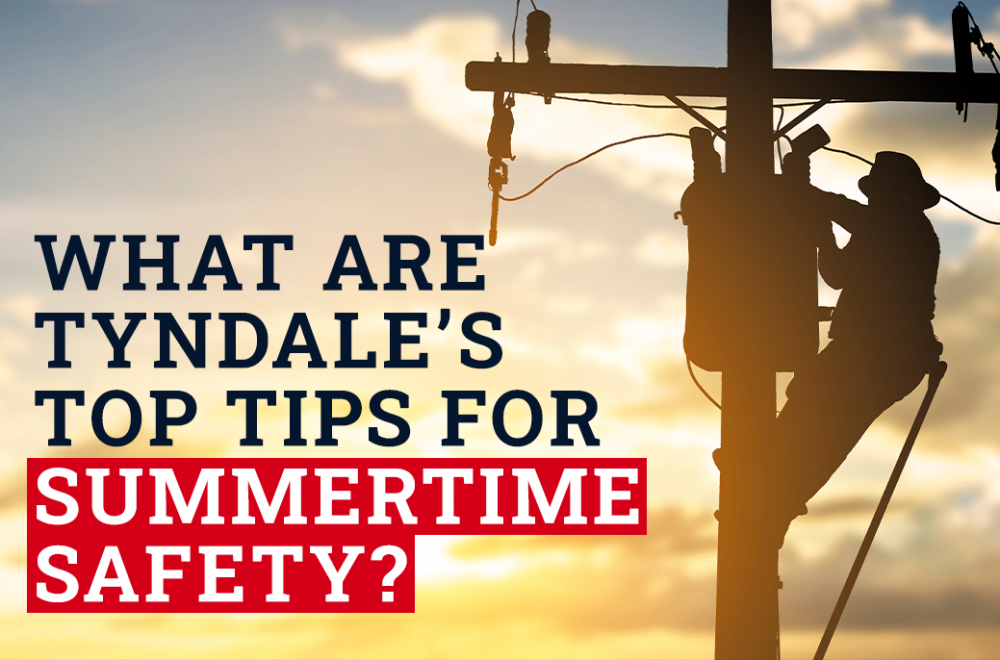 At long last, summer is almost here. Although we may look forward to days at the beach, outdoor events, and other fun ways to soak up the sunshine, we must also prepare for some summertime nuisances that can turn into health and safety issues if not kept in check. As temperatures rise, so do the risks associated with biting insects, summer thunderstorms, sun exposure, and excessive heat. Those who work outdoors contend with these issues daily, but never fear; we're here to help you stay cool and protected no matter the weather. Below we've rounded up our best advice to prevent common warm-weather dangers and cure the summertime blues.
Tip #1: Defend against harmful biting insects by wearing permethrin-treated FR clothing.
In recent years we've been hearing more and more about the dangers posed by disease-carrying insects. First, it was diseases spread from tick bites, like Rocky Mountain Spotted Fever and Lyme Disease, and more recently, we learned of viruses like West Nile and Zika, which are spread by mosquitos. Since certain insect repellents – like DEET – are highly flammable and should never be used with FR clothing, Tyndale offers a complete line of arc-rated, flame resistant (AR / FR) clothing that's pre-treated with Perimeter Insect GuardTM. This insect repellent treatment uses permethrin which has been proven safe in arc flash and flash fire exposures and lasts for 50+ launderings. You'll find details on permethrin-treated FR clothing in our post below:
Tip #2: Don't get caught in a summer storm without rainwear that meets appropriate testing standards.
If you're specifying or purchasing AR / FR rainwear, it's critical that you know which standards are used to make compliance claims. Tyndale strongly recommends against accepting or purchasing FR rainwear that only uses ASTM D6413, the vertical flame test, to make those claims. While ASTM D6413 is an excellent test for standard textile fabrics, it's not appropriate to be used as the sole qualifier for protective rainwear. There are specific standards rainwear should meet depending on the hazard – arc flash or flash fire, which you'll find in the video linked below:
Tip #3: Your AR / FR clothing generally provides very similar UV protection to its non-FR counterparts.
It's essential to protect yourself against the danger of excessive sun exposure in the summer, but for workers who must wear AR / FR clothing to stay safe on the job, it's not as simple as applying sunscreen. First and foremost, it's vitally important to ensure that any sunblock lotions you use while wearing PPE are not flammable. Tyndale is happy to conduct testing using our vertical flame testing lab to help you determine your sunscreen's flammability. But beyond sunscreens, your AR / FR clothing also has a certain degree of UV protection, similar to the ultraviolet protection factor (UPF) ratings of non-FR fabrics. Scott Margolin, Vice President of Corporate Strategy and Technical, sheds some light on this topic in the video below:
Tip #4: Reduce your chances of suffering heatstroke by wearing breathable, single-layer FR clothing.
With 18 of the last 19 summers being the hottest on record, the dangers of extreme heat to workers increase each year. Heatstroke, where the body's core temperature can reach 104°, can be fatal and requires immediate emergency attention. OHSA understands the danger heat-related illnesses (HRI) pose to outdoor workers and recently launched their National Emphasis Program (NEP) on heat hazards, which will be the subject of an upcoming blog. Since workers in the industries we serve wear AR / FR PPE to stay safe on the job, our best advice is to wear single-layer breathable AR / FR clothing instead of multi-layer protection – such as coveralls – which reduces the body's ability to dissipate heat. Find more information on this hot topic in the post below:
Looking for breathable, moisture-wicking FRC options for hot summer days?
Find our most popular lightweight and breathable options to beat the summer heat in this recent blog post that stresses the importance of ordering early!
Check out our Lightweight FR Clothing Resource Hub for additional options to help you stay cool on the job this summer.
Our searchable, industry-leading blog is packed with additional information to help you navigate the summer months safely. Stay tuned for new content, training tools, and technical resources to help protect you from hazards during the summer months and all year long. In the meantime, we wish you a safe and happy summer, both on and off the job!