Proud to Protect Canada – Episode 6: High-Visibility and Reflective Striping (CSA Z96)
In previous episodes of our Proud to Protect Canada series, we reviewed the safety standards governing PPE and protective clothing related to arc flash and flash fire hazards. In this episode, we'll turn our attention to the Canadian standard governing high-visibility safety apparel, CSA Z96. In the video below, Tyndale Canada Sales Director, Paul Castelli talks to Canada Technical Advisor, Sara Olsen about the standard's specifics and its different classes and levels of enhanced visibility so that workers are more easily seen in various work environments. Sara begins by explaining the three classes of CSA Z96 based on body coverage of bright or fluorescent materials and three levels of performance specified for retroreflective materials.
What is the purpose of high-visibility safety apparel?
CSA Z96 describes the high-visibility safety apparel (HVSA) performance requirements for Canadian workers. HVSA protects workers from being struck by moving vehicles and is particularly important when working around heavy equipment in construction zones or around vehicle traffic in dark or low-light conditions.  HVSA is the last line of defense against accidents by warning vehicle operators of the presence of workers in the area. The first line of defense is to minimize workers' exposure to moving vehicles using physical barriers or otherwise controlling the design of the workplace to increase worker safety.
In Canada, visibility requirements vary from province to province. Some provinces mandate the use of CSA Z96, while others consider it best practice. CSA Z96 recommends that a hazard assessment be performed and provides an informative risk assessment form which can be helpful in the absence of specific legislation in your area. It helps to identify the risk of workers being hit by moving vehicles and the environmental conditions under which work is performed. The standard examines specific risk categories for different job types related to HVSA requirements.
What are the different classes and levels specified in CSA Z96?
CSA Z96 specifies performance requirements for background material and retroreflective material (high-visibility tape), sets minimum coverage for each, and defines tape placement on garments. The standard designates different classes and levels of enhanced visibility so that workers are more easily seen in different work environments. There are three classes of garments based on the amount of body coverage provided by bright or fluorescent material, with Class 1 requiring the lowest amount of body coverage and Class 3 requiring the most coverage. All classes specify a signature striping pattern which minimally must cover the torso. The pattern includes two vertical stripes on the front, a horizontal stripe encircling the waist, and an X pattern on the back which helps indicate, at a distance or in low light conditions, which way the worker is facing. For all classes, CSA Z96 specifies the colour of both the background material and the striping.
In addition to the three classes, there are also three levels of photometric performance, which designate the effectiveness of retroreflective material to return light to its source. To simplify this concept, think of the retroreflective properties of a stop sign or reflective trim reflecting the light from your headlights. CSA Z96 has three levels:
Level 1 offers a lower level of retroreflectivity.
Level 2 provides a higher level of retroreflectivity.
Level FR is reserved specifically for arc-rated flame resistant (AR / FR) garments. Level FR reflective trim is often narrower than Level 1 or Level 2 trim.
Classes and levels are used in conjunction with one another to specify various requirements for HVSA. In the video, Sara explains how this plays out and what the different classes and levels look like:
Class 1 garments give good visibility with the lowest required body coverage and require a basic harness, with either triple tape (e.g., yellow/silver/yellow or orange/silver/orange) or combined-performance striping, which is retroreflective material that is also fluorescent. The reflective portions can be Level 1, Level 2, or Level FR.
Class 2 garments provide superior visibility with moderate body coverage, requiring bright or fluorescent background material covering the torso and Level 1 or 2 striping in a harness pattern. Striping can be silver, combined performance, or even triple-tape, as long as the retroreflective portion is 50mm (2") wide. Class 2 has a special exception for bib overalls, which can be compliant even if the striping does not extend over the shoulders, but additional leg band striping is required.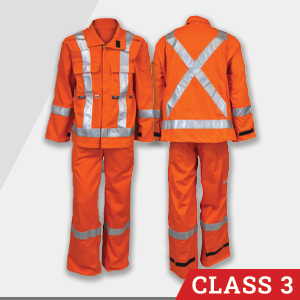 Class 3 garments provide the best visibility and are worn in high-risk situations, such as low-light or nighttime conditions or when visibility is required from long distances due to vehicle speeds exceeding 80 km/h (50 mph). Class 3 requires bright or fluorescent background material on the same areas as Class 2, with the addition of arm and leg bands.
One final note to remember – the three classes do not dictate that particular garment types, such as vests, jackets, or overalls, be worn for work requiring HVSA. CSA Z96 additionally contains optional emergency personnel requirements.
CSA Z96 was updated in 2022. For more information, or to purchase the standard, visit https://www.csagroup.org/store/product/CSA%20Z96%3A22/.
Stay tuned for the next episode in this series which asks, What is a Standard, and How do they Come to Fruition in Canada? Visit our series hub to read episode summaries and catch up on all topics in the series.
Series: Proud to Protect Canada
Follow along with this series to explore our educational resources for companies and workers based in Canada. You'll meet the technical and market experts from our Canada team and find everything from the basics on the hazards, to PPE and labeling requirements, a closer look at key safety standards and the hierarchy of standards and regulations in Canada, employer responsibilities under the Canadian Labour Code, and more.