Have you stocked up on your lightweight FRC for summer?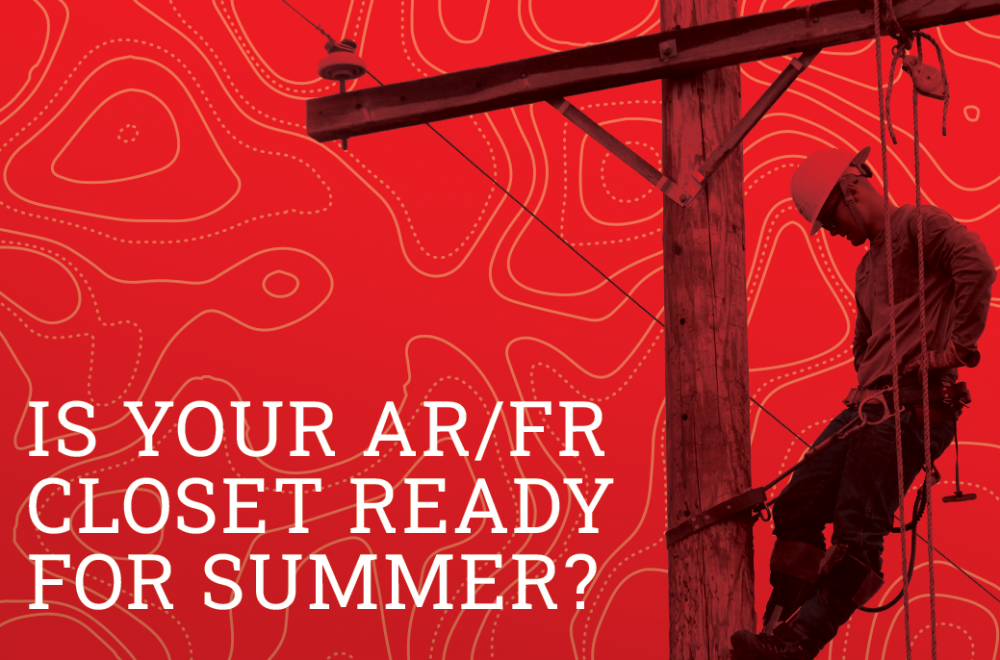 Summer temperatures have already arrived in some areas of the country, signaling it's time to order your lightweight arc-rated and flame resistant (AR / FR) clothing early. Aside from making sure you're weather-ready for those random extra warm spring days, beating the rush of summer orders is important for many reasons:
When warm temperatures start to arrive, we see a surge of orders for lightweight garments. This means inventory levels can change rapidly, especially if you're looking to order a popular product or require a popular size.
Ever-changing and unexpected weather patterns mean you might need access to garments best fit for summer, even in early spring. Make sure you're ready for roller-coaster temperatures by ordering early!
If you need to exchange an item for some reason, you'll need to factor in a few days to process the return and receive your replacement garment. By ordering ahead of time, you're allowing time for the unexpected.
No matter what season, ordering proactively ensures your items are in your hands before you need them.

Don't know what to order? With so many options available, knowing which garments are best for warm weather can be tough. As experts in the AR / FR apparel industry, we've made it easy for you by suggesting a few of our most popular lightweight and breathable options to beat the summer heat:
Tyndale Men's Long Sleeve Crew Neck Base Layer:  This brand new performance shirt was designed to keep you comfortable on the job – without slowing you down. The Regulator fabric used to make this garment allows for exceptional breathability when exposed to warm weather.
Arc-rated 4.9 cal/cm2
CAT 1
NFPA 2112 certified
Tyndale item number: M09MT
Carhartt FR Force Lightweight Long Sleeve Shirt: An AR / FR wearer's favorite, Carhartt's FR FORCE® Lightweight Long Sleeve Shirt keeps you comfortable, compliant, and looking good! At 4.7-oz, it's the lightest weight CAT 2 woven in the market, and it features an innovative honeycomb weave engineered for added breathability.
Arc-rated 8.6 cal/cm2
CAT 2
NFPA 2112 certified
Tyndale item number: A170C
Tyndale Men's Versa Cargo Pants: To face the summer heat, lightweight comfort is a must-have. Tyndale's 8.6-ounce inherent modacrylic/cotton blend cargo pants feature cargo pockets with button closures, a side cell phone pocket, and two back pockets. The garment wash softens the fibers allowing them to relax, for added comfort and reduced shrinkage. Designed with mobility in mind, the pants feature knee darts for increased range of motion and stretch for increased flexibility.
Arc-rated 12 cal/cm2
CAT 2
NFPA 2112 certified
Tyndale item number: M21MT
Tyndale's Women's Black Five-Pocket Denim Pant: There's nothing like finding work jeans that offer unmatched comfort in every element. The Women's Versa Black-Five Pocket Denim pant is sleek with a touch of stretch for maximum flex and mobility. This lightweight jean is just 11.75 ounces and comprised of 99% cotton and 1% Spandex. The straight leg, mid-rise fit offers standard five-pocket styling making them ideal both on and off the job.
Arc-rated 16 cal/cm2
CAT 2
NFPA 2112 certified
Tyndale item number: T22MT
Shop for these garments on Tyndale's retail site or contact your Tyndale National Account Executive to add these items to your employee-based managed apparel program today!