Proud to Protect Canada – Episode 3: What is CSA Z462?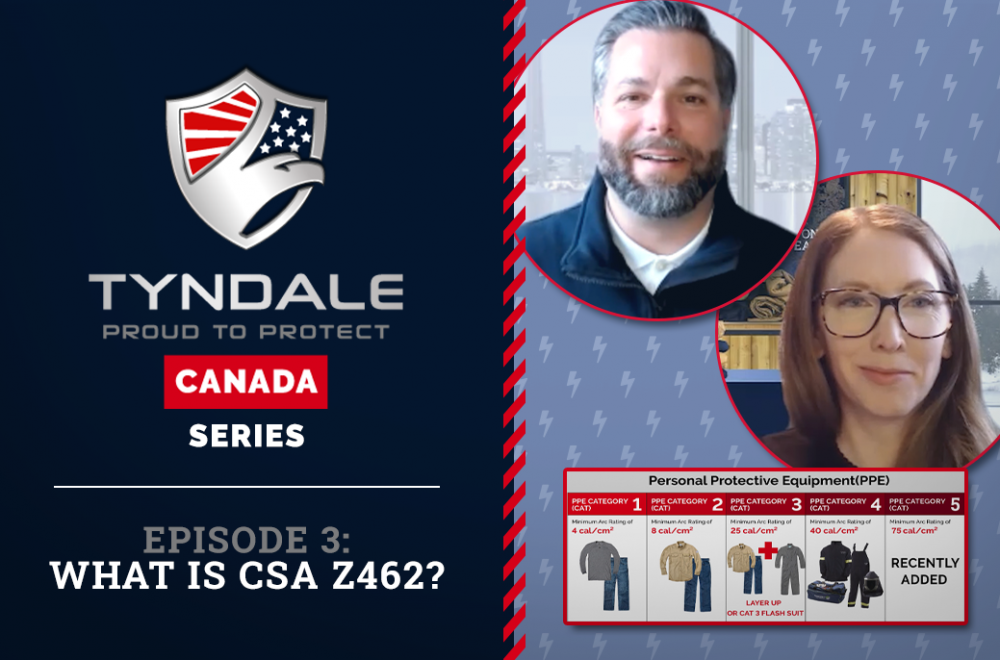 In Episode 2 of our Proud to Protect Canada series, Tyndale's Canada Sales Director, Paul Castelli, and VP of Technical, Scott Margolin, answer the question, what is an arc flash. Beyond the definition, they discussed what causes an arc flash, the dangers associated with an arc flash, and how to protect against the dangers of an arc flash. In case you missed it, check it out now!
In today's episode, we're taking the arc flash topic one technical step deeper by reviewing the Canadian arc flash standard, CSA Z462. In the video below, Tyndale Canada Sales Director, Paul Castelli, talks to Canada Technical Advisor, Sara Olsen, about what CSA Z462 is, how it relates to other standards, general recommendations under the standard, and the similarities between it and its US counterpart, NFPA 70E.
First, a brief introduction of Sara, our resident PPE expert. Sara has worked for over 15 years in the protective clothing industry. She has experience in laboratory testing, PPE research, design, development, manufacturing, and working with distributors and end-users. She holds an M.Sc. degree in textile and apparel science from the University of Alberta and currently consults with Tyndale as technical expert on Canadian safety standards. Let's learn more about CSA Z462 from her and Paul:
What is CSA Z462?
As Sara explains, CSA Z462 is the Canadian Standard for Workplace Electrical Safety. It is a non-mandatory standard, meaning it's not part of any Canadian legislation federally or provincially; however, it is considered best practice. Employers are required to protect workers exposed to potential hazards like arc flashes – and CSA Z462 is generally accepted to fulfill that responsibility.
How does CSA Z462 relate to other standards?
CSA Z462 references several standards that cover a variety of PPE items – garments, gloves, boots, hard hats, etc. For the purposes of this post, we're focused on garments. The standards referenced by CSA Z462 related to arc-rated (AR) garments are:
ASTM F1506, Standard Performance Specification for Flame Resistant and Electric Arc Rated Protective Clothing Worn by Workers Exposed to Flames and Electric Arcs
ASTM F1891, Standard Specification for Arc and Flame Resistant Rainwear
Together, CSA Z462 and the related ASTM standards govern arc-rated (AR) garments by outlining key requirements, including arc flash PPE categories which are used to match the level of protective clothing to the hazards that wearers are exposed to on the job.
What are the Arc Flash PPE Categories?
As Sara explains, there are five PPE Categories outlined in CSA Z462 and provided below:
Arc Flash PPE Category

In order from lowest to highest level of protection

Minimum Arc Rating

Measured in cal/cm²

CAT 1

≥ 4

CAT 2

≥ 8

CAT 3

≥ 25

CAT 4

≥ 40

CAT 5 (recently added)

≥ 75
It's important to note that arc ratings can be based on a single garment or a garment system. Arc-ratings cannot simply be added together to determine the garment system rating. Garments must be tested together in the configuration they are going to be worn using the ASTM F1959 test method to determine the combined system rating. So, while it may seem logical to add arc ratings together to reach a desired system arc rating, it is not accurate and potentially dangerous.
What are the similarities between CSA Z462 and its US counterpart, NFPA 70E?
CSA Z462 and NFPA 70E have much in common, especially when it comes to PPE. Either one can be specified for AR clothing in Canada. In general, as long as garments meet ASTM F1506 and ASTM F1891 (for rainwear) and have an arc rating equal to or greater than the estimated incident energy, they are appropriate for use in both Canada and America.
In fact, key PPE recommendations outlined in CSA Z462 are also recommended in NFPA 70E:
Guidance on base layers and underlayers:
Non-AR garments are allowed to be worn under arc-rated outerwear as long as the garments are completely covered by the arc-rated PPE.
If you are wearing non-AR underlayers, the arc rating of the garment system must be high enough that the innermost arc-rated layer will not break open at the expected incident energy level. This is to prevent ignition of underlayers.
Non-AR garments cannot be used to increase the garment system's arc rating.
Meltable fibers cannot be used in non-AR underlayers, with the exception that socks and undergarments may contain incidental amounts of elastic. For example, polycotton blends cannot be worn under arc-rated PPE.
The standards also offer general proper wear guidance:
Garments should be worn as intended, meaning:

Zippers fully zipped
Cuffs fastened
Shirts tucked in

Tight-fitting clothing should not be worn because it reduces the air gap between the garment and the body, which provides additional protection in the event of a thermal hazard.
Finally, PPE should provide necessary protection and not interfere with the task at hand.
Stay tuned for the next episode in this series which covers Flash Fire hazards. Visit our series hub to read episode summaries and catch up on all topics in the series.
Series: Proud to Protect Canada
Follow along with this series to explore our educational resources for companies and workers based in Canada. You'll meet the technical and market experts from our Canada team and find everything from the basics on the hazards, to PPE and labeling requirements, a closer look at key safety standards and the hierarchy of standards and regulations in Canada, employer responsibilities under the Canadian Labour Code, and more.