Is Your AR/FR Wardrobe Ready for Spring?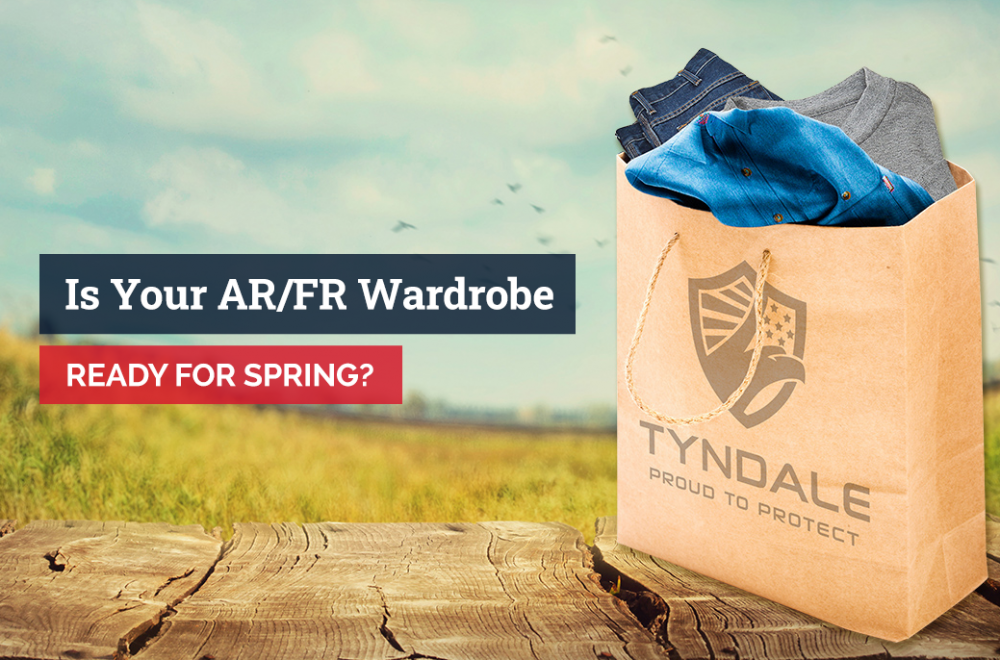 Spring, is that you starting to creep in? Warmer weather is around the corner, and not a minute too soon. Now, as the seasons start to change, is a perfect time to tackle some spring cleaning for your arc-rated and flame resistant (AR / FR) clothing wardrobe. Scott Margolin, Vice President of Technical, shares some important reminders:

Follow along with this easy checklist. Make sure your AR / FR:
Try it on. And make sure you know how to wear it properly, too – there are some cases in which wearing your AR/FR clothing improperly could be just as dangerous as not wearing any at all.
Need a new size or different fit? Across three comfortable collections by Tyndale – including a full line of American-made garments – and the brands we carry, the possibilities are endless. Browse your company's catalog and place an order today.
Is enough to comply with your safety policy and the hazards of your job.
You need:
Enough on hand to wear while some pieces are in the wash
Layering pieces – including base layers, shirts and pants, sweatshirts, and outerwear – to keep you both safe and comfortable as temperatures fluctuate
Now is also a great time to order raingear for those spring showers, and to plan ahead for lightweight options for summer, insect protection – including insect-repellant garments, and to consider ordering outerwear for next year when demand is not as high.
Take care of your AR / FR and it will take care of you:
Check your garments for signs of wear or damage, and retire garments that are worn out – here's a guide on when and how.
Keep in mind the ABC's of AR / FR repair. If damage is minor, contact your supplier to request a repair kit containing AR / FR materials, or to request a repair. Do not wear the garment again until it is properly repaired using AR / FR materials!
Is clean and ready to go.
Brush up on these tips for AR/FR clothing maintenance:
Tune in to our training video to brush up on best practices for home laundering
Remember the three keys to garment care
Clean your outerwear and store it for next year – these tips can help
Get started today!
Remember: there's no such thing as bad weather, only the wrong clothes. Our Weather & Seasons Resource Hub takes the guesswork out of staying safe and comfortable in any conditions the forecast brings. Find it at TyndaleUSA.com under FR Safety Resources > Resource Collections.