How to Layer for Warmth in the Winter
Creating a safe work environment for workers goes beyond ensuring compliance with industry safety standards related to both electrical arc and flash fire hazards – it also means guaranteeing workers are comfortable so that they can perform their duties properly. During the winter months, when workers find themselves in various situations – in and out of buildings and outdoors, and exposed to all types of weather – the best way to regulate body temperature is to layer garments, making it easy to shed or add layers as necessary.
In today's product feature blog post, Scott Margolin highlights comfortable layering options that make work environments easily adaptable as the temperatures vary.
Carhartt, the manufacturer of FR Company Gear™, designed their new line of flame-resistant (FR) sweatshirts to drive comfort and compliance on the jobsite. Whether you prefer a full-zip, quarter-zip, or pullover, Carhartt has you covered – literally! All three new FR sweatshirts are CAT 3 / 25 CAL rated, making them perfect to layer for warmth, comfort, and protection while on the job.
Choosing what you wear under your midweight outer layer is crucial in maintaining comfort throughout the day. To stay warm, you need to stay dry and Tyndale's base layers are the perfect moisture wicking options. By allowing sweat to flow out and air to flow in, you stay dry throughout the day.
Tyndale's Men's FRMC Layer 1 Performance Long Sleeve FR T-shirt is manufactured with breathable 4.6 oz. FRMC jersey knit making it moisture wicking and fast drying to regulate body temperature.
A new addition to the Tyndale Versa Collection, the Men's Long Sleeve Crew Neck Base Layer also makes for a perfect inner layer. Designed to keep you comfortable on the job without slowing you down, the Regulator™ fabric used to make this garment keeps you warm in cool weather while allowing for breathability in high temperatures.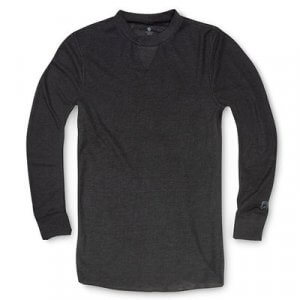 Tyndale has made the "Power of Choice" the cornerstone of the managed FR clothing purchase programs we administer. Our programs allow employers to give workers access the full line of Carhartt FR clothing, along with Tyndale's own line of FR, and clothing from every other major FR manufacturer. By allowing workers to choose FR clothing based on personal preferences from a catalog of company-approved items, employers have found that wearers take greater ownership of their FR clothing decisions, express higher levels of satisfaction, and take better care of the clothing they wear in the workplace.
Compliance is higher when employees are comfortable. Equip employees with the options they need to stay comfortable on the job.
Supervisor of a Managed Program and interested in adding these items to your program? Contact your dedicated National Account Executive.
Enrolled in a Managed Program and interested in getting these items added to your catalog? Share this blog with your program supervisor and ask them to contact us.
Not enrolled in a Managed Program but interested in purchasing this item online? Shop our retail website.