The Dangers of Improper Wear: Episode 9 – The Chimney Effect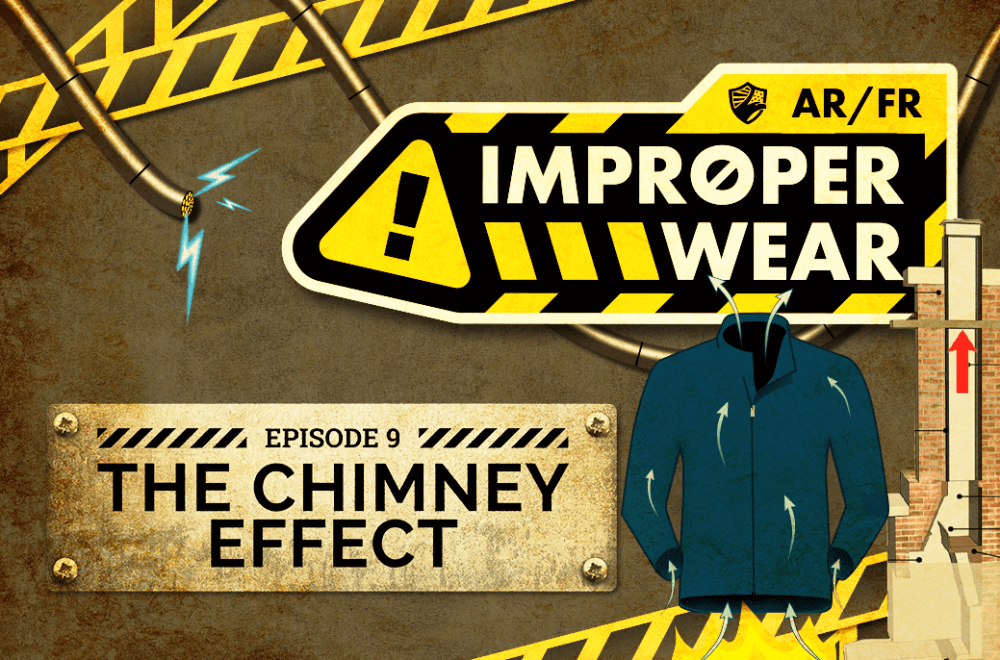 Our Dangers of Improper Wear series examines many of the common mistakes people make when wearing arc-rated and flame resistant (AR / FR) clothing, with real-world arc flash video footage that shows just how substantial each mistake can be. In each episode, you'll find powerful examples of why wearing the right PPE, and wearing it properly, makes all the difference – with expert commentary from Scott Margolin, Vice President of Technical.
On the jobsite, head to toe coverage is critical for complete, lifesaving protection. In Episode 4 of The Dangers of Improper Wear – Untucked AR / FR Shirts, we looked at Flash Fire and Arc Flash Safety Standards to confirm that YES, you should always tuck in your arc-rated and flame resistant (AR / FR) shirts.
Keep in mind: wearing AR / FR clothing improperly can be dangerous, and some mistakes are almost as bad as not wearing any protection at all. Wearing non-FR pants with an AR / FR shirt compromises protection as well. If you need AR/FR clothing, you need it head to toe.
In the event of an arc flash while wearing non-FR pants, the pants can ignite and create a "chimney effect" that funnels heat and fire inside your FR coat and, as this hot air rises, it pulls more oxygen in from the bottom of the coat and out of the top making a more aggressive fire.
To see the chimney effect in action and to witness the damage it can cause, we invite you to watch our video: 
The devasting results not only funnel heat and flames toward your neck and respiratory system, but flames become trapped inside your AR / FR coat and against your body causing significant burns.
Don't make the potentially catastrophic mistake of wearing only a top layer of AR / FR clothing – this makes you more vulnerable to the chimney effect in the event of an arc flash. Proper PPE wear saves lives.  Know the facts, learn how to wear AR / FR clothing properly and get home safe!