What are the Lightest Weight CAT 2 Button-up Shirts?
If you've ever been in the market for a comfortable, light-weight, CAT 2 / NFPA 2112 button-up shirt, you know that historically, finding this item has been tricky. There are plenty of options which meet most of these parameters, but are they comfortable? Would it be a shirt you look forward to wearing? Typically, this answer is no.
Fast-forward to today. Fabric innovations have been occurring rapidly over the years to meet demand for finished garments that provide the protection you require in a comfortable, light-weight form. Below we'll explore five (5) button-up shirt options which can drastically enhance your AR / FR wardrobe.
For a complete video breakdown of the options available through Tyndale, let's join Tyndale's Vice President of Technical, Scott Margolin.
Before we dive into specifics, it's important to note that all of the garments listed below are known as "super-lights," and are less than 6oz (with some being less than 5oz), CAT 2 rated, and NFPA 2112 complaint.
Let's start with the Carhartt Force shirt (item No. A170C). This button-up shirt is the lightest of all shirts on this list at 4.7 oz., and offers an arc rating of 8.6 cal. This new, lightweight, breathable FR Shirt keeps you comfortable, compliant, and looking good!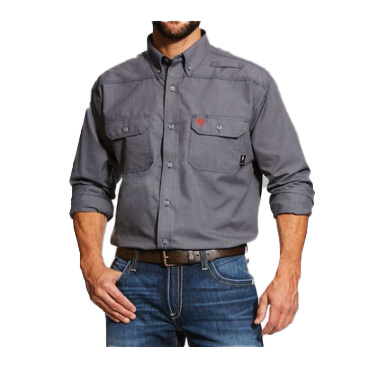 Up next is a 5.3 oz. button-up option from Ariat (Item No. D18BY). This shirt uses Glenguard fabric and has an arc rating of 9.5 cal. A hard-working shirt with the same good looks and great fit, this lightweight shirt is great for any environment.
Tecgen has a super-light shirt (Item No. F169Y) made by National Safety Apparel (NSA). This shirt weighs 5.5 oz. and has an overall arc rating of 8.0 cal. This extremely lightweight button down is made from inherently flame resistant Tecgen Select fabric.
Westex manufacturers a new fabric called DH Air. Their garment weighs in at 5.5 oz., and has an arc rating of 9.1 cal. Look for this new garment coming soon!
Bulwark also has a new fabric named Evolv IQ. This button-up shirt (Item No. F174B) weighs in at 5.5 oz., and has an arc rating of 8.5 cal. This classic button-down shirt is CAT 2, NFPA® 2112 compliant, and has mobility features to help you move.
Choice is extremely important to ensure comfort, as every wearer has their own idea of what is considered comfortable. Depending on the style, fabric type, and feel you prefer, we're confident you'll find that at least a few of these featured super-lights are so comfortable you won't realize you're wearing FR clothing! It took some time but fabric innovation has finally caught up with wearers' desire to have comfortable AR / FR garments that look and feel like regular clothing.