What Does an Arc Flash Injury Actually Cost Your Business?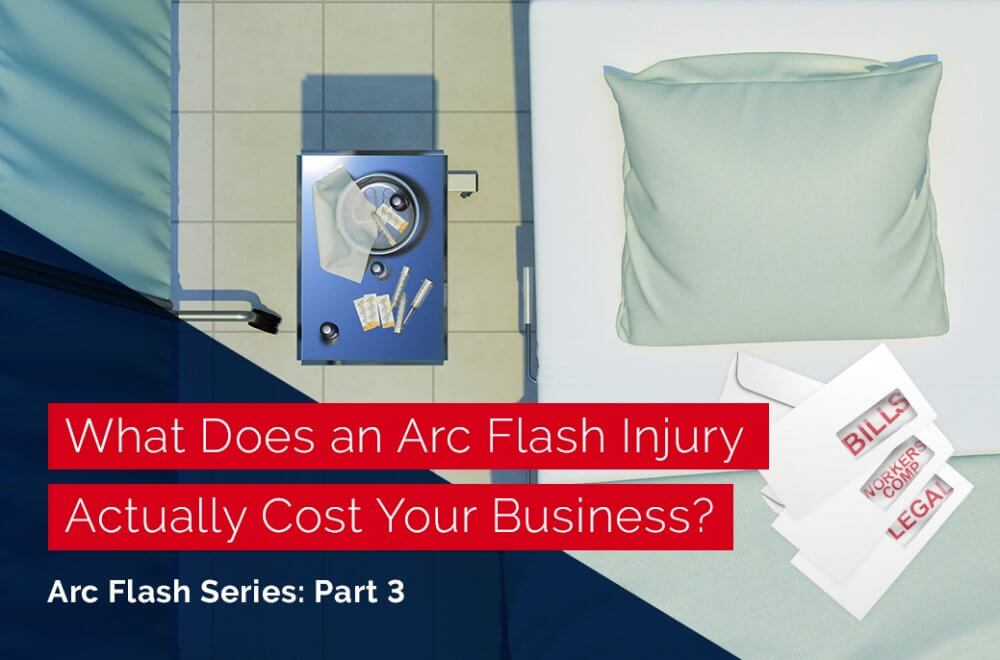 So far we've looked at all the various costs an arc flash event can generate and just how often such events occur. Now we'd like to explore the economic impact an arc flash injury can have on your business.
By far the greatest cost of any arc flash injury or fatality is borne by the worker and his or her family. But in addition to the physical and emotional toll of such an event, there are real, measurable economic costs to both worker and employer.
As we discussed in the first post of this series, the total economic impact of an arc flash incident that leads to injury or death extends far beyond the direct costs related to medical care, worker's compensation, and legal fees. In fact, a frequently cited study estimates the indirect costs to be 8.25 times the direct costs.1
In their 2006 paper, Health Implications of Global Electrification, Ronald Wyzga and Wendy Lindroos, concluded that the direct costs of an arc flash incident were approximately $1.55 million (1991 USD). Wyzga and Lindroos then calculated the indirect costs and determined that they can equal a minimum of 8.25 times the direct costs.
Adjusting their original figure to 1999 dollars, Wyzga and Lindroos arrived at a total for all costs related to an arc flash incident – direct and indirect – of $15.75 million. Using a Consumer Price Index inflation calculator, that total would be equal to $23.47 million in 2018 dollars.
So, what goes into the $23 million figure? Let's review the total cost categories we established in our first post:
Direct monetary costs – Includes medical treatment and rehabilitation, workers compensation, cost of accident investigation, and downtime/loss of production.
The Workplace Safety Awareness Council estimates that burn treatment requires approximately 1.5 days of hospitalization for every percent of the body that is burned, and the average hospitalization resulting from an arc flash event is 19 days.2 It's also important to note that the length of hospitalization rises and the prognosis for recovery shrinks the greater the injured worker's age.
Workers injured by an arc flash require an average of 8 to 12 months to return to work3 and receive an average of over $61,000 in workman's compensation (adjusted for 2018 dollars)4
Indirect monetary costs – Such as legal costs and judgements related to litigation, potential fines, increased insurance premiums, repair costs, and the cost of replacement workers.
The average litigation cost to defendants for a general industry incident are $10-15M3
An employee death resulting from failure to comply with OSHA regulations can incur fees of up to $10,000 and jail 5
Costs to your reputation – Adverse impact on your standing the community, your personal reputation, your ability to attract talent in a tight labor market, and even the possibility of criminal charges.
Loss of business opportunities – Many customers are hesitant, or simply refuse to hire companies with a higher than average OSHA-reportable incident rate. And depending up the severity of the incident and your safety record, you could possibly even lose your license to perform electrical work. Virtually every state in the U.S. has laws on the books that can lead to the suspension or revocation of licenses in instances where it is determined that safety precautions were disregarded.
An objective review of the cost categories outlined above reveals that few if any of them are avoidable in the wake of an arc flash related injury or fatality. And only the largest companies can afford to absorb a loss of over $23 million without suffering severe business consequences – in many cases, bankruptcy.
Furthermore, several of the less quantifiable costs have long lives. This is particularly true when it comes to matters of reputation. Accidents such as an arc flash that result in injuries or fatalities leave strong impressions and are not soon forgotten. When given the option to choose a contractor with a clean safety record versus one with a serious, recorded accident in recent memory, the scale tips decidedly in favor of the company with an average or below-average OSHA incident rate. Customers want no part of the bad publicity – not to mention the project delays and extra scrutiny – that accompany an industrial accident.
In our next post, we'll compare the cost of outfitting your employees in AR/FR clothing to the costs associated with an arc flash incident we've established here.
This post is part 3 of a 4-part series exploring the financial implications for employers of an arc flash incident involving one of their workers. Be sure to read the other posts in the series: The Many Costs of an Arc Flash Incident; How Common are Arc Flash Incidents; The Cost of Providing Arc Flash Protection in order to fully understand why providing employees with arc flash protection is such a good investment.
Wyzga, Ronald and Lindroos, Wendy, Health Implications of Global Electrification, Electrical Power Research Institute, Feb. 6, 2006.
Common Electrical Hazards in the Workplace, Workplace Safety Awareness Council, Powerpoint Presentation.
Top 10 Arc Flash Statistics Every Employer Should Know, Falcon Power Consultants, http://falconpowerconsultants.com/top-10-arc-flash-statistics-every-employer-should-know/
Campbell, Richard B and Dini, David A., Occupational Injuries From Electrical Shock and Arc Flash Events, Fire Protection Research Foundation, March 2015, https://www.nfpa.org/~/media/files/news-and-research/resources/research-foundation/research-foundation-reports/electrical/rfarcflashoccdata.pdf?la=en
OSHA Statistics about Arc Flashes, Technical Skills Development, 2016