The Risk of Not Wearing Proper PPE
This is the final post in a four-part series exploring factors that could contribute to an arc flash incident, based on the experience of arc flash survivor and safety advocate, Brandon Schroeder.
In the first three posts in the series, we talked about behavioral and company culture-related factors that could lead to an arc flash incident. In this post, we'll discuss what led Brandon Schroeder to perform energized work without wearing the proper Personal Protective Equipment (PPE), and how employees can avoid a similar situation from happening in their own lives.
When Brandon was asked to relocate a cord inside of a panel – something he'd done countless times without incident – he encountered a number of obstacles. The situation came to a head when Brandon did not have the proper PPE to do the job safely.
Here's a brief recap of what happened leading up to the incident:
It was the end of the day. Brandon was 30 minutes from finishing his workday when he was asked to relocate a cord inside a panel.
Brandon decided to perform the work energized. There was no main breaker on the panel, therefore, Brandon could not shut off the power himself. Rather than calling the utility company, Brandon decided to work energized.
Brandon's arc flash suit was not in his vehicle. Brandon's company provided task-based arc-rated (AR) Brandon went to put on the arc flash suit in his vehicle for use during energized work, however, the suit was with a co-worker at a different jobsite.
Brandon's experience and "get it done" attitude didn't let these things deter him from doing the job. In Brandon's words, "I had a decision to make and I clearly made the wrong one."
Brandon was only wearing a cotton t-shirt, pants, hard hat, and safety glasses when he found himself in the middle of a massive arc flash. He suffered from third-degree burns covering his hands, arms, and face, and four weeks in the University of Iowa's burn unit, plus four months in the hospital before being allowed to return home to recover. It was six months before Brandon was able to return to work.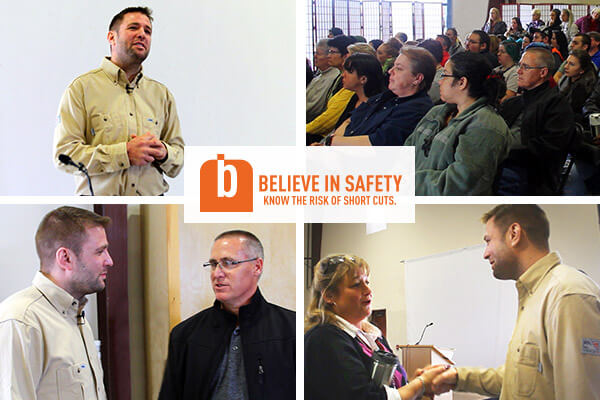 We discussed how companies can avoid a situation similar to Brandon's – by prioritizing safety over productivity through a "Safety First" culture and by implementing an FR daily wear program. But the effort can't stop there. Regardless of program type, employees have to make a daily decision to wear proper PPE and wear it properly.
One of the best ways to ensure employees are wearing protective clothing is by offering comfortable options. This is best achieved through a daily wear program, like the one Tyndale offers – with company-approved custom catalogs, online ordering with individualized delivery, and user-generated product ratings and reviews.  Additionally, when employees find their clothing comfortable, they're less likely to alter them (rolling up sleeves, taking off protective layers, etc.), which could lead to more serious injury in the event of an incident. If you're not wearing your FR properly, you could be leaving yourself at risk. In fact, there are some cases in which wearing your FR clothing improperly could be just as dangerous as not wearing any at all.
While OSHA's previous requirement was simply that a worker's clothing "do no harm" in the event of an arc flash, the final ruling now explicitly requires employers to provide employees with full-body FR clothing matched to the hazard. This is achieved by conducting an arc flash hazard analysis or risk assessment and using the results to identify the PPE necessary to keep workers safe in the event of an incident. Employers should ensure their employees are wearing garments with an arc rating greater than the incident energy the equipment is capable of generating.
Bottom line, if you find yourself in a similar situation as Brandon's, hopefully his story will encourage you make a decision that puts your safety and the safety of others first. Just because you've never had an incident, doesn't mean it can't happen to you.
To learn more about Brandon Schroeder's experience, visit his company website, Believe in Safety. Interested in learning more about Tyndale's daily wear program? Contact us today.