Don't Risk It! An Arc Flash Survivor Speaks Out.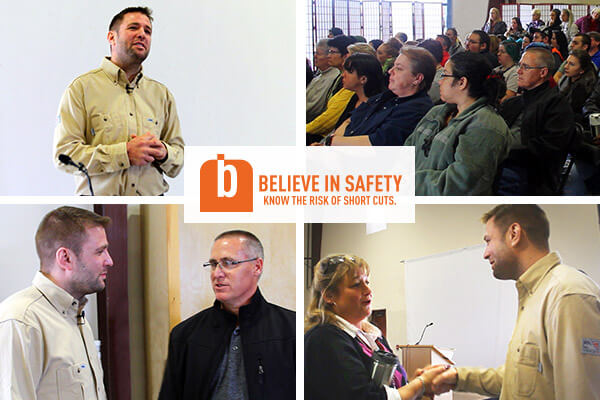 On August 24, 2011, Brandon Schroeder was working on a job site handling an electrical task that he had performed without incident dozens of times before. Only this time, things didn't go according to plan – and Brandon was caught in the blast from a massive arc flash. Brandon suffered severe burns across his arms, hands, and face. And he realized after the fact that he was fortunate to have escaped with his life.
Following a long and arduous recovery, Brandon decided to devote himself to educating his fellow electricians about the risks of assuming "it will never happen to me." He founded his own company, Believe in Safety, and began traveling the country, speaking to electricians about the need to put safety first.
Brandon attributes his injuries to a combination of factors including:
A belief, born of years without incident, that his experience was enough to prevent accidents from happening
A failure to wear the necessary personal protective equipment (PPE)
A jobsite culture that values speed and productivity over taking the necessary safety precautions
What these factors have in common is that each is preventable. And Brandon is committed to making sure other electricians take the steps necessary to ensure that they don't suffer the same consequences – or worse – than he did for opting not to put safety first.
On February 1, Brandon brought his message to Tyndale's Pipersville, Pennsylvania headquarters where he told his story to more than 200 Tyndale employees. His audience was visibly moved as he spoke about how grateful he is for the opportunity to continue to be a part of the lives of his wife and children. When his presentation ended, several Tyndale employees approached Brandon to personally thank him for sharing his message.
During his visit, Brandon repeatedly thanked Tyndale employees for making reliable FR protection readily available to his fellow electricians. In Brandon's words, "What you're doing saves lives." His kind words strongly reinforced Tyndale employees' embrace of their "Proud to Protect" mission.
Going forward, Tyndale is partnering with Brandon to make sure his safety first message is heard by as many working electricians as possible. Watch for a detailed exploration of each of the risk factors Brandon identified, as well as others, coming soon to Tyndale's blog. To learn more about Brandon's experience, watch his video below: