This is the first post in a two-part series, focusing on the Bulwark iQ Series®. Stay tuned for our second post which will explain the technology behind Bulwark iQ Series® and how it's redefining comfort for workers required to wear FR clothing.
Tyndale is a proud distributor of industry-leading arc-rated flame resistant (FR) clothing brands, like Bulwark. With comfort and performance in mind, Bulwark recently introduced their coolest, most comfortable FR garments – the Bulwark iQ Series®. These innovative FR garments keep workers cool, dry, and – most importantly – protected, while they work.
All Bulwark iQ Series® garments are made exclusively with Westex G2™ fabrics by Milliken®, featuring revolutionary technology that makes garments lightweight, breathable, and durable without compromising on protection, comfort, or style. We are pleased to offer the following products – and more – from Bulwark's iQ Series®:
iQ Comfort Shirts
Bulwark's iQ Comfort Shirts redefine FR shirts by providing exceptional performance features that allow workers to move easier and feel cooler all day long! Plus, knit or woven shirts are available for both men and women!
Bulwark iQ Series® Men's Long Sleeve Tee T025B
5.3oz 69% Cotton / 25% Polyester / 6% Polyoxadiazole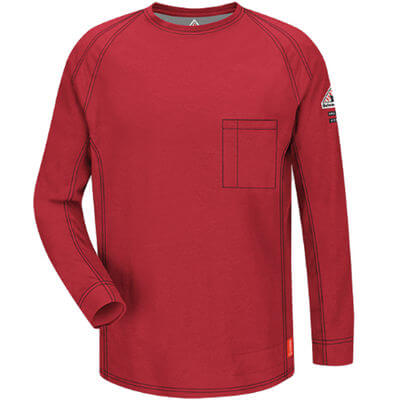 Lightweight and breathable with moisture wicking fabric
Rib knit collar and cuffs with raglan sleeves
Full sideseam gusset and chest pocket with pencil stall
Flash fire rated – meets NFPA 2112
iQ Series seam tag, iQ Series reseller hang tag
Imported by Bulwark
Arc Rating: 8.2 / CAT: 2
Tyndale also offers Bulwark women's iQ Long Sleeve Comfort Knit Polo (T042B)
Bulwark iQ Series® Women's Long Sleeve Shirt T193B
5.7 oz. Twill, 88% Lyocell / 12% Polyester
Banded, topstitched collar with red trim at neck seam
Topstitched cuffs with button closures
Concealed sleeve pockets with concealed closure on left
Full sideseam gusset
Flash fire rated – meets NFPA 2112
Imported by Bulwark
Arc rating: ATPV: 6.3 / CAT: 1
Tyndale also offers Bulwark men's iQ Long Sleeve Patch Pocket Shirt (T196B)
Looking for the same comfort and style in a Hi-Vis shirt? No problem! We distribute the Bulwark iQ Series® Hi-Vis Comfort Knit Long Sleeve Henley – ANSI 107 Class 3. Contact your National Account Executive for more information!
iQ Endurance
Bulwark's iQ Endurance coveralls are built to tolerate extreme wear while still providing a comfortable experience for the wearer! Enhanced durability is achieved by using state-of-the-art Dual Duty FR fabric.
Bulwark iQ Series® Endurance Premium Coverall T410B
7 oz. 65% Cotton / 35% Polyester Ripstop Twill 
Two-way concealed Nomex® taped brass break-away zipper
Concealed snap at top of zipper and at neck
Concealed adjustable snap closure on sleeve cuff
Elastic back waist
Two front swing pockets are topstitched and lined
Right front pocket bag with cell phone pocket, one napoleon chest pocket and two angled chest pockets with flaps and concealed snap closure
Two patch hip pockets, left sleeve pocket, back yoke with deep-pleated action back, and large patch pocket on left leg
Side vent openings with snap closure
Cargo pocket on right leg with flaps and concealed snap closure
Imported by Bulwark
Arc Rating: 9 / CAT: 2
There's more where that came from! These items are also available on our retail website. Learn more about Bulwark iQ Series® garments – and other products offered – by contacting your National Account Executive. Or call 800-356-3433 today! And, be sure to keep an eye out for our next post in this series which explores the technology behind the Bulwark iQ Series®!