Final OSHA 29 CFR 1910.269 Update: Care, Maintenance and Laundering of FR Clothing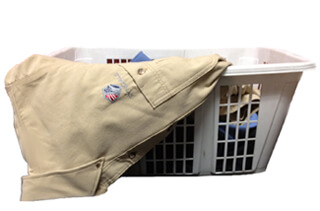 During Electrical Safety Month in May, Tyndale began discussing key aspects of OSHA's revised ruling of 1910.269 as it applies to FR clothing and has aimed to help employers understand its impact and how to properly protect employees.
In this post, Tyndale identifies the last key component of OSHA's final ruling as it relates to arc rated clothing worn by utility workers. In the updated standard, OSHA supports home laundering of arc rated and FR clothing. While the final rule does not require employers to launder protective clothing for employees, OSHA makes clear that it is the employer's responsibility to ensure proper care and maintenance of employees' protective clothing.
Is Home Laundering of FR Clothing Allowed?

Yes, OSHA explicitly says that "The Agency is not prohibiting home laundering of FR and arc-rated clothing (p. 187)." While the designation of FR clothing as PPE requires additional employer oversight, it is clear OSHA allows home laundering of FR clothing. "OSHA concludes that there is no additional cost associated with laundering the flame-resistant clothing required by the final rule.
First, as stated, the final rule does not require employers to launder protective clothing for employees; and, therefore, while employers may choose to launder protective clothing for their employees, the rule does not impose the cost of laundering on employers.
Second, according to the record, employers or employees can generally follow the manufacturers' care instructions that come with the clothing (Tr. 305-306, 1373-1374), and there is generally no additional cost to employees over that of laundering normal (that is, non-flame resistant) clothing (p.287)."
However, no longer can employers simply tell their workers to "follow washing instructions," and trust that they will do so. "To comply with 1910.132 or 1926.95, employers cannot simply instruct employees to follow manufacturers' instructions. If employers rely on home laundering of the clothing, they must train their employees in proper laundering procedures and techniques, and employers must inspect the clothing on a regular basis to ensure that it is not in need of repair or replacement (p. 187)."
Employers' Responsibility for Care & Maintenance of FR Clothing
As noted above, "OSHA believes that it is the employer's responsibility to ensure proper maintenance of PPE (p.187)." It is important to understand that engaging a laundry service does not exempt the employer from the responsibility of ensuring proper care of PPE. "In any event, the responsibility for maintaining PPE rests squarely with the employer under existing OSHA standards (p. 187)."
OSHA's update to 1910.269 now implements an industry-wide requirement to perform regular checks of PPE where previously this was simply treated as a best practice. Tyndale recommends implementing brief visual inspection of FR clothing as a standard component of job briefings. A simple visual check for excessive soil, wear-and-tear, holes and/or stains can be accomplished quickly, and is an effective method to meeting this OSHA requirement.
Supervisors, safety personnel and other management retain the right to require that a garment be retired if they believe that it does not meet reasonable safety or image requirements. It is important to note that when it comes to arc flash protection, normal wear and tear of a garment does not necessarily result in a lower arc rating. Experienced FRC suppliers offer guidance and support on training supervisors and end users; click here to Download Tyndale's Sample FRC Clothing Retirement Policy.
Repairs of flame, thermal, and arc resistant clothing should be made from components equivalent to those used in the original manufacturing to avoid reducing the performance properties of the flame resistant garment. Garments that have non-repairable damage, are worn out, or are unusable for other safety reasons, are not to be reused and should be discarded. Remember that regardless of laundering method, the employer is required to perform these inspections and has full responsibility in doing so.
Deadlines & Additional Resources
Important Note: As of February 2015, compliance dates have changed for enforcement of OSHA standard 1910.269. These changes impact dates listed in this post. Click here for complete details and updated deadlines.
Employers must make reasonable estimates of incident energy by February 17, 2015 (OSHA's original deadline of January 1, 2015 has been extended and will not be enforced until the new date). However, employers are required to provide protective clothing and other protective equipment meeting the arc-flash protection requirements of the final rule by April 1, 2015. Even with a later compliance date for protection, employers should not delay in engaging an arc rated clothing supplier. This ruling will significantly increase the demand for arc rated items which can impact the rest of the supply chain. The last time an FR clothing PPE standard was issued in 2010 there were significant industry-wide shortages.
As both a manufacturer and distributor of arc-rated and flame resistant clothing, Tyndale seeks to help employers understand the final ruling's impact and how to properly protect your employees. For a summary overview of OSHA's critical updates related to FR clothing, Download Tyndale's Frequently Asked Questions.
Still have questions? Visit www.tyndaleusa.com for additional information and training videos or email: 1910269@tyndaleusa.com to learn how you can fulfill your FR clothing requirements with Tyndale today!
Links to other posts in this series:
References for this post were accessed May/June of 2014: