ASTM D6413 is the Standard Test Method for Flame Resistance of Textiles (vertical test). ASTM D6413 is used to determine flame resistance of fabrics used to protect against both electric arc and flash fire hazards. This is the defining test method for compliance with OSHA 1910.269 and one of the most commonly used tests on flame resistant fabrics in the United States. Adopted from Federal Test Standard No. 191A, the vertical flame test is the ASTM version of the Federal Test Method 5903.1.
The purpose of this test is to determine whether a fabric will continue to burn after the source of ignition is removed.
How ASTM D6413 Works:
A 12" specimen of fabric is suspended in an enclosed chamber and secured on three sides. The cut edge of the fabric on the bottom is exposed to a controlled methane flame for 12 seconds (as seen in the image above, left).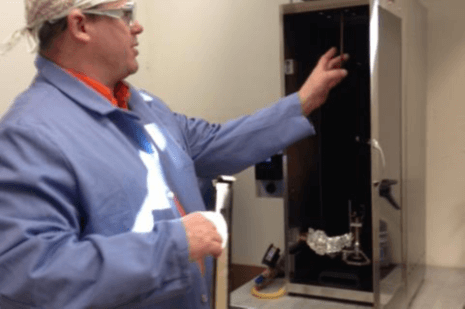 After exposure to the flame, afterflame, afterglow and char length are measured:

Afterflame is the number of seconds during which there is a visible flame remaining on the fabric.
Afterglow is the number of seconds during which there is a visible glow remaining on the fabric.
Char Length is the length in inches of fabric destroyed by the flame.
The occurrence of melting or dripping, if any, is also recorded.
Five tests are performed and the results are averaged and reported as the final test result.
This test method is utilized in garment standards ASTM F1506, the Standard Performance Specification for Flame Resistant and Arc Rated Textile Materials for Wearing Apparel for Use by Electrical Workers Exposed to Momentary Electric Arc and Related Thermal Hazards, and NFPA 2112, Standard on Flame Resistant Garments for Protection of Industrial Personnel Against Flash Fire.
ASTM D6413 is used to determine a pass/fail criteria for ASTM F1506, which requires a maximum char length of 6 inches. Note: ASTM F1506 requires a maximum char length of 6 inches under this test method, whereas NFPA 2112 requires a maximum of 4 inches.
Garments that meet these standards are used to comply with:
Did you know? Tyndale performs voluntary safety auditing on Tyndale garment fabrics. The ASTM D6413 test method is utilized to evaluate the flame resistance of every production lot of fabric used in Tyndale-branded clothing. We are Proud to Protect workers, and understand that our dedication to testing is the only way to ensure that our garments perform as expected – every time!