3 Tips on How to Wash FR Clothing and its Useful Wear Life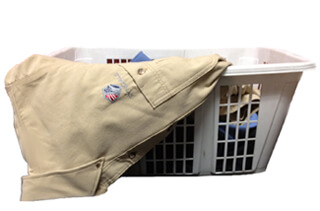 This blog post is the first of a 3-part series. Later in September, we will also cover how to wash FR clothing with fabric softener and lint contamination, or when non-FR garments are washed with FRC.
We often get questions on best practices regarding how to wash FR clothing and its useful wear life. Wearing FR clothing with stains or holes, or that's worn thin can be dangerous to the wearer. Below are three tips on caring for your FRC.
1. How to Wash FR Clothing
Home laundering is a safe, cost-effective alternative to industrial laundering and can help preserve the useful life and protective qualities of FR clothing.
Tyndale has worked with Proctor and Gamble to select the best detergent to wash your FRC. The chemical properties of flame resistant clothing manufactured by Tyndale cannot be washed out over time if the washing instructions are followed. Liquid Tide (for top-loading machines) or Liquid Tide HE (for front-loading machines) offer the best cleaning performance.
For heavily soiled garments, wash FR clothing in the hottest temperature allowed on the care label (generally warm setting) to remove dirt. FR garments may be dry cleaned at any time.
2. Minimizing Shrinkage
While some FR fabrics shrink more than others, there are several tactics you can use to give your FRC the longest possible life.
Most FRC includes cotton, which shrinks when it's washed. Flame resistant fabrics, like many non-FR fabrics, are susceptible to shrinkage no matter what company makes the fabric or manufactures the garment. Tyndale manufactures all garments to help accommodate future shrinkage.
It's important to note that two-thirds of a garment's shrinkage takes place within the first five washings. Tyndale recommends laundering garments at a "warm" temperature. Once you are happy with the way your garment fits, you can retain its size, like any other garment, by line drying it instead of using a dryer. If using a dryer is necessary, remove the garment from the dryer while it is still damp. Drying a garment on high heat could cause excessive shrinkage. The most shrinkage occurs at the very end of an over-dry setting.
3. Useful Wear Life
Do you know when it's time to retire an FR garment from service? If any of these wear indicators appear, stop wearing the garment to minimize possibility of injury. First and foremost, be sure to adhere to your company's safety policy.
Tyndale recommends removing clothing from service if the garment:
Is torn, ripped, threadbare or frayed around the edges (see images below).
Is stained with a flammable substance that cannot be removed through laundering (see image on right above). If exposed to flame or electric arc, flammable soil could ignite and continue to burn – even though the garment itself won't burn.
Has had contact with bleach.
Has a frayed collar, frayed cuffs or torn, open or frayed seams (see images below).
Repairs of flame, thermal, and arc resistant clothing should be made from components equivalent to those used in the original manufacturing to avoid reducing the performance properties of the flame resistant garment. Garments that have irreparable damage, are worn out, or are unusable for other safety reasons, are not to be reused and should be discarded.
Knowing how to wash FR clothing properly will ensure that your safety apparel lasts as long as it should and will protect the way it is meant to. Along with that, recognizing when your FRC needs to be repaired or replaced is important for your safety on the job.
Did you know that Tyndale offers complimentary repair kits? When placing your order, simply request one and we'll include it with your order at no charge!
For more information on Care and Maintenance of FR Clothing, please see ASTM F2757, Standard Guide for Home Laundering Care and Maintenance of Flame, Thermal and Arc Resistant Clothing.