FULL LINE OF AMERICAN-MADE AR/FR
Tyndale is Proud to Protect™ workers throughout the United States with our own line of quality arc-rated and flame resistant (AR / FR) garments made in America. With superior construction and stylish designs, we offer a complete selection for men and women – making it easy for our customers to stay safe, comfortable, and looking good.
AMERICAN-MADE PRODUCTS
The Tyndale brand offers a full line of products made from US fabric on American soil. We also proudly distribute garments from NSA and Truenorth, whose garments are primarily American-made.

Cost Control
Smaller factories have the unique ability to reduce waste and increase fabric yield, which is the #1 driver of garment cost. Tyndale's role as both a manufacturer and distributor of American-made garments keeps prices competitive.
Availability
With factories located within close proximity, shipping costs and transit times are reduced, allowing Tyndale to full orders quickly and respond dynamically to demand signals.

Quality Assurance
Smaller, specialized manufacturing facilities offer stringent quality control – critical with products that end users trust with their lives.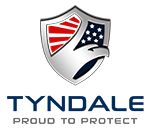 Tyndale's logo, unveiled in 2012, features the bald eagle – a quintessential symbol of the US, along with a likeness of the American flag, symbolizing our full line of American-made goods.
All Tyndale-made garments proudly feature external labeling identifying their arc rating and corresponding PPE Category (CAT) as defined by NFPA 70E. Our shirts, sweatshirts, and outerwear also include an external label featuring our eagle design on the left arm – a constant reminder that Tyndale is Proud to Protect you, and an important safety feature that makes it that much easier to tell at a glance that you are wearing FR.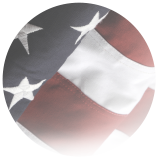 In addition to our products, look for the likeness of the American flag on our website, catalogs, packaging, and more – showing support for jobs domestically and pride in the American workers we protect.